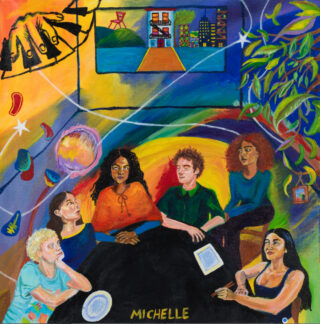 MICHELLE
After Dinner We Talk Dreams
7/10
There's an easy kinship between Arlo Parks and New York collective MICHELLE. The labelmates share similar influences, and the award-winning British artist guested on a new version of their single 'Sunrise' last year. 
The parallels are most obvious on the smooth beats of 'Mess U Made', the opening track on second album After Dinner We Talk Dreams, and in the way they write relatable relationship lyrics. "Now you've left I've no idea / Who to text when I'm feeling blue," they mourn over slick backing on 'Expiration Date'. By the time they reach the breezily harmonised 'No Signal' their phone is "off the grid" in an attempt to get "one night to myself."
Yet while Parks makes downtempo music for the head, the predominantly queer, POC six-piece capture the cool sound of the heart and streets. Unashamedly commercial, 'Pose' shows their fun side with the sweetness of Janet Jackson. 'Layla in the Rocket', meanwhile, has the organic instrumentation and sisterly vibe of Haim.
The layered four-part vocals, which they're at pains to point out remain untouched, illustrate their musicianship at a distinctly human scale. The breadth of their individual interests is meanwhile reflected in the way they push against genre. This can be heard in the funky bassline on 'End of the World', jazzy guitar on 'Spaced Out, Phased Out', and '80s synths on the darker mood of 'Looking Glass'.
There are moments that would work on the club floor but, as the title suggests, the album is mainly intended for after dinner intimacies.
Free Protomartyr flexi disc with this month's magazine
Subscribers to Loud And Quiet now receive a limited edition flexi disc of a rare track with their copy of the magazine
This month's disc is from Detroit punk band Protomartyr