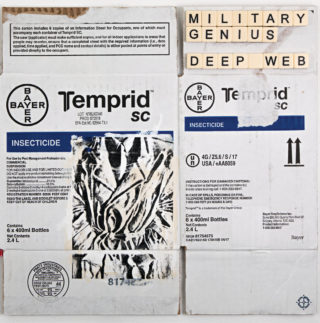 Military Genius
Deep Web
7/10
The entry point to Deep Web is in the needle drop static, which sounds like the dust cloud of an approaching stampede, then the ringing of the division bell, at once a scorched desert-scape dive bar in a Morricone Western and the leaching downtown trumpet in the pack of Wynton Marsalis's Motherless Brooklyn. There's space for interpretation within the meditative, ambient soundscapes of Bryce Cloghesy's maiden voyage as Military Genius, a compelling eight-track addition to his work as a founding father of the veritable free-form, much-hyped Canadian post-punk revivalists Crack Cloud, NOV3L and Blanka.
Military Genius packs as much shrouded mystery into a few anxiety-ridden passages as his former collaborations did band members on a stage. Deep Web sounds like Crack Cloud's lo-fi younger brother, once you pare back the madness and realise the sparse but intricate songwriting. Expansive, retro-futurist drone jams back the percolating bass melodies and intimate thrum of the first four tracks, whilst 'Let My Guard Down' has the earthy sprawl of studio outtakes with a post-SFA Gruff Rhys. There's even that plush, pastoral gentility of early '70s countrypolitan folk music if you look through the cloaked veneer and shy-guy dance anthems for all tomorrow's quieter parties. 'When I Close My Eyes' is a foot-tapper.
What Cloghesy's sonic explorations lack in narrative – beside a catch-all look at conflicts – he makes up for in the dredged texture that unifies Deep Web. The degraded, recorded-at-a-distance vocal style of King Krule and his bedroom auteurs feels unearthed, whilst the interjecting brass sections read like the gripping tangents of the book you almost put back on the shelf. 'The Runner' is a particular highlight: a nine-minute electronic helicopter-rotor thrust, uncannily meditative, before a strange clarity comes on the closing track 'Born Blind', self-reviewing in its final lyric that "you don't know what is coming till it comes".