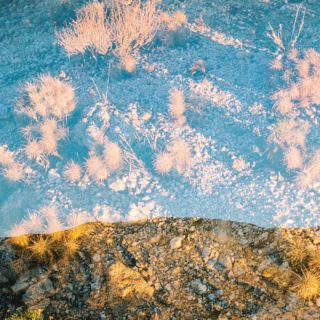 Guitarist and synth-ist William Young has chosen 2018 to step out of the shadow cast by his typography-obsessed employers BEAK> and create an album of electronic loops and soundscapes that sounds nothing like his day job. Citing classical music as well as the Commodore 64's back catalogue as inspiration, it's an album that demands your undivided attention and a sound system that has the volume and fidelity to match its lofty ambitions.
If you think that just because music is instrumental you stick it on in the background, you've come to the wrong place. Regardless, you should stick around anyway. Having started to build up a library of field recordings in recent years, Young has channelled his collection through an old Tascam 144 mixer so that connecting the dots becomes an impossible task. The cries of dismembered, roughened voices rise and fall, coming to the front of the stage and stepping back into the darkness as layer upon layer of synths, at turns hopeful and menacing, advance and recede. Regardless, it sounds beautiful. 'Familiar Machines,' for example, takes the sounds of Benjamin Power's Blanck Mass project, pulling them from bleakest winter into a space somewhere closer to spring. 'Second Run' and 'Tempel 1', meanwhile, are tunes; the kind of music Daft Punk might be making if Pharrell Williams hadn't locked them in his gold-encrusted basement.
What makes 'Earth Loop' special, however, is the pithiness of its statements. As it climaxes with 'The End', three shining minutes of William Basinski-esque splendour, you'll be fumbling for the 'repeat' button.
New monthly memberships available
Here's a new thing: our membership scheme now has a pay-monthly option, plus a load of exciting new digital stuff for people who support what we do. It's actually excellent value, honest, and will help us continue to promote new independent artists and labels.
Sign up and you'll receive our physical magazines delivered to your door, our digital editions, exclusive podcasts and playlists and access to our EXTREMELY glamorous Members Lounge. You'll be the envy of all your friends.