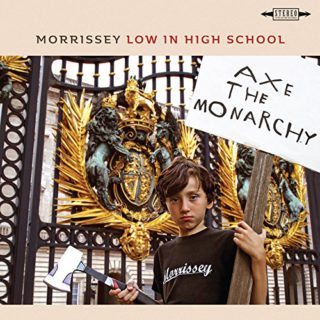 Morrissey
Low In High School
(BMG)
6/10
Separating Morrissey's political dogma from his music has always been tricky, but even if you can put aside his dog-whistles, new album 'Low In High School' isn't short on polarising ideas: for all that he and his band have taken to wearing Fuck Trump badges, several of its songs share the demagogue's fondness for crying fake news. Over the stomping guitars of 'My Love I'd Do Anything For You', he harrumphs about the "propaganda" of the "mainstream media", while the strange bleeps of 'Spent The Day In Bed' soundtrack his sniping about how "the news contrives to frighten you".
For someone who relishes being the sharpest fly in the ointment, such rhetoric feels disappointingly obvious; more daring is the epic 'I Bury The Living', on which he condemns the "honour-mad cannon fodder" of the armed forces and the way they're deified by mindless tub-thumpers. But it's when Morrissey leaves the polemic behind that 'Low In High School' feels more vibrant, whether it's the swooning grandeur and longing of 'Home Is A Question Mark' or the sinister electronics of 'Jacky's Only Happy When She's Up On The Stage', the story of a figure who lives to grandstand in front of an audience. On an album often concerned with the obfuscation of truth, it feels like the most revealing statement of all.
Loud And Quiet could do with your help
We love making Loud And Quiet – our magazines, this website, our podcasts and more – but it's become increasingly difficult for us to balance the books.
If you're a reader who'd like to help us keep the show on the road, please consider becoming a Loud And Quiet member. There are options to receive our physical magazines and lots of other extras that are exclusive to our supporters.