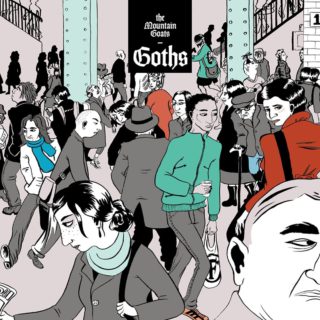 The Mountain Goats
Goths
(Merge)
6/10
Now sixteen albums in, The Mountain Goats' meandering path over the last 25 years or so has seen leader John Darnielle shift from solo performances and lo-fi recordings to fronting a big band setup. Up from one to a party of four in its current iteration, 'Goths' (despite the gloomy connotations of the title) has the band at their genial best. Where tracks like 'Unicorn Tolerance', 'For the Portuguese Goth Metal Bands' and 'Andrew Eldritch is Moving Back to Leeds' allow for witty, wordy playfulness, 'Wear Black' is a soulful little slice of fluid bass, layered harmonies and lounge piano, and 'We Do It Different on the West Coast' drifts like a California breeze.
With Darnielle's wry lyricism and the band's polished sound, it's a familiarly elegant exercise in tenderness and humour as capable of washing over you as it is catching you unawares with a subtle line. But sit with 'Goths' long enough and you'll come to respect The Mountain Goats' patient craft as much as their clever comedic touch. That is, if you didn't already.
We're not being funny...
… but can you become a member please?
It's actually excellent value, and will help us continue to promote new independent artists and labels.
Sign up and you'll receive our physical magazines delivered to your door, our digital editions, exclusive podcasts and playlists and an actual bookmark, as if printing a magazine in 2021 wasn't old fashioned enough.
6-month and full year memberships are available now. Fancy it?