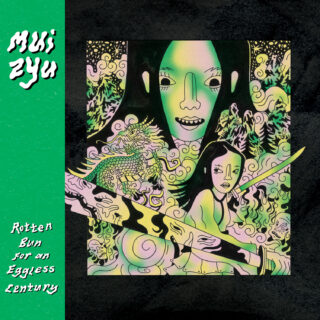 Mui Zyu
Rotten Bun For An Eggless Century
7/10
The opening track on Mui Zyu's debut album is a gentle statement of intent. 'Rotten Bun' is influenced by the writings of Pu Songling and its dream-pop synth washes are broken by the weeping solo of an erhu, a Chinese two-stringed fiddle. These set the scene for an album that explores and celebrates the HongKong heritage of Eva Liu, the woman behind the solo project who's best known for fronting art-rock trio Dama Scout.
Across 12 lo-fi tracks she combines tradition with modern instruments and DIY recording sensibilities. This approach incorporates her father narrating a family recipe over a cheap drum machine on 'Ho Bao Daan (Interlude)', and seemingly drawing on wuxia films on the drifting 'Eggless Century', on which her voice is blossom soft.
Her choice of instrument is knowingly used to complement her lyrics. The droning 'Paw Paw, inspired by her grand-mother, features of an erhu, which her grandfather used to play. The heavily treated and cut up guzheng (Chinese plucked zither) on 'Ghost With A Peach Skin', meanwhile, is meant to emulate the fruit's bruising. This is experimentation largely placed within a familiar indie setting of fluttering keyboards and blown-out drums, but Liu nonetheless approaches it from a singular angle.