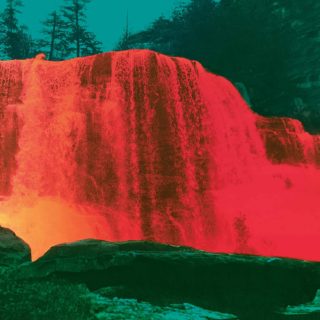 My Morning Jacket
The Waterfall II
(ATO)
6/10
Written at a residence in California's luscious Stinson Beach, under an hour's drive from San Francisco, psych-rock outfit My Morning Jacket's 2015 album The Waterfall was an earnest quest for inner-peace following heartbreak. 
The album, the band's seventh, felt deep, cosmic and authentic, exuding the idyllic surroundings of oceanic coast and mountains that engulfed them.
Rumours rumbled soon after about the fecundity of these sessions with the band themselves disclosing they considered releasing Waterfall as a triple album before deciding to cut it down to a single album of ten tracks. For five years, fans were left to conjecture what those other songs sounded like, until seemingly out of nowhere the band announced the follow-up: Waterfall II.
Singer Jim James notes that sporadically re-hearing the recording of Waterfall II opener 'Spinning my Wheels' while in coronavirus lockdown inspired him to revisit these tracks, and it's easy to hear why. The beguiling vibe that permeates the sparse, stripped-back song embodies what one imagines sun-ripened transcendence on a south Californian beach would feel like. Its evocative and calming choral sound, laced with James's placating voice, is one you feel the band could build the entire album around.
My Morning Jacket, however, meanders rather than meditates. The singular sound of the opener is diluted in a wash of other fleeting and borrowed sounds from rock's supernal sea with the Beatles-like 'Still Thinkin', the Pink Floyd-tainted expansiveness of 'Feel You', the Rolling Stones jaunt of 'Run It' and the stalking sonic apparition of The Doors. At times, it's more karaoke than eureka. 
The anti-gun psychedelia of 'Magic Bullet', the playful 'Climbing The Ladder' and the soothing 'Welcome Home' serve as intermittent reminders of the band's potency – but it never sparks the sustained breakthrough that the sound threatens. By no means a bad trip but hardly revelatory.
New monthly memberships available
Here's a new thing: our membership scheme now has a pay-monthly option, plus a load of exciting new digital stuff for people who support what we do. It's actually excellent value, honest, and will help us continue to promote new independent artists and labels.
Sign up and you'll receive our physical magazines delivered to your door, our digital editions, exclusive podcasts and playlists and access to our EXTREMELY glamorous Members Lounge. You'll be the envy of all your friends.