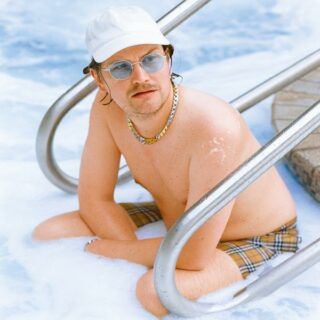 From the moment you lay eyes on the sleeve of Myd's debut album Born a Loser, it's clear that the Burberry trunk-donning producer doesn't take himself too seriously. Better known offstage as Quentin Lepoutre, the multi-instrumentalist was born and raised in the north of France, and discovered his affinity for synths and dance music at age 14, later going on to cut his teeth with the electronic quartet Club Cheval. Now among the Ed Banger roster, Lepoutre is blissfully indulging in a looser, flirtier sound.
Across 14 tracks, Myd soaks our ears in a dreamy cocktail of breezy indie guitar licks, playful nu-disco beats and hazy vocal samples, mirroring his quirky, laid-back personality, stylistically akin to the likes of Metronomy and LA Priest. 'Together We Stand' and 'The Sun' sound like funky anthems for future festival DJ sets, while the Mac DeMarco collab 'Moving Men' is an addictive and beautifully textured head-bopper that leaves you wanting more from the unlikely duo.
Nostalgic, mellow and eccentric, Born a Loser introduces Myd as a lovable oddball, never short on charisma or eccentric flair, and ultimately encouraging us all to let loose and embrace our inner weirdo.