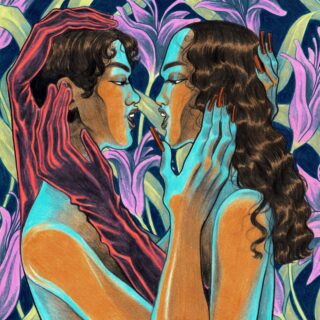 Mykki Blanco
Broken Hearts and Beauty Sleep
7/10
For the best part of a decade, rapper, poet and performance artist Mykki Blanco has been tearing down boundaries in hip-hop and underground culture. However, despite their constant innovation and single-mindedness, Blanco is yet to release a truly all-encompassing full-length project. Arriving five years after their official debut album Mykki, Blanco's new mini-album is the closest they've come yet.
Executive produced by FaltyDL, and featuring contributions from Blood Orange, Hudson Mohawke, Big Freedia, Kari Faux and others, Broken Hearts and Beauty Sleep ties together the many threads of Blanco's work. Rooted in rap, the record unfurls over nine tracks to incorporate slow jams, dance music, spoken word and much more.
Lead single 'Free Ride' is pure euphoria distilled into a pop song, with a hook that demands to be blasted while driving at high speeds in the open-topped vehicle of your choice. Meanwhile, breezy pop-trap number 'Summer Fling' with Kari Faux features the lines: "He told me J. Cole saved rap, well how about that / I told him your dick smells like hamsters, go take a bath" – which should be enough to make it a hit if Faux's bubblegum chorus isn't (it definitely is).
Occasionally Blanco falters, as on the minute-a-half 'F*ck Your Choices', which is essentially a lover's quarrel over a beat. Similarly, the Latin-tinged 'Want From Me' with Bruno Ribeiro feels disjointed and never quite finds its groove. 
All is forgiven by the time Big Freedia appears on closing track 'That's Folks', though. Spooky stabs of piano form the spine of a bouncing instrumental, with Blanco and Freedia taking turns to shout out their titular 'folks' with all the energy of a Southern rap classic.