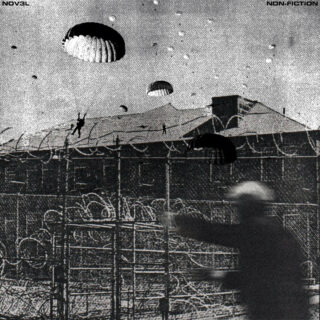 Whilst there's hardly a shortage of bands hellbent on condemning our broken existence, their disruptive role in modern music serves not to dilute or pacify an angry consensus, but more to galvanise that rage into an appetite for change. Yet Vancouver post-punks, N0V3L are standing their ground, stubbornly unconvinced of a so-called brighter future. Sharing a crossover in personnel with the the ever-evolving Crack Cloud collective, the title of the band's full-length debut, Non-Fiction is purposefully unambiguous – a phrase so rigid in definition that it's impossible to interpret anything else.
By prising fact from fiction, N0V3L's frank observations are relayed without any pretence of complacency about the world around them. Their bleak musings on capitalist greed, backward politics and the marginalisation of society's most vulnerable are made all the more real by the album's upfront, entirely Tascam-388 recorded production. Rolling out jagged, stripped back guitars, opening tone setters, 'Untouchable' and 'Group Disease' are straight to the point, biting at the heels of humanity's blunders and doused in forlorn sounds of '80s new wave rebellion. Separating each gap with blunt definition, Non-Fiction's tightly regimented track list seems to pile up like building blocks, always threatening collapse at any sudden moment.
Even at its most sprightly intervals, 'Falling In Line' predicts a slow grind into Armageddon, grimly ridiculing Western apathy and highlighting how easily we pacify our spiralling cycle of wrongdoings. Everything is executed without revelling in self-pity, always making sure to not sanitise the hard truths. By the time 'Notice Of Foreclosure' comes into being, N0V3L are looking ahead, justifiably uninspired by an uncertain future. It's a moment of bitter submission to modernity, spiked with acceptance as we're all dragged kicking and screaming into tomorrow.
New monthly memberships available
Here's a new thing: our membership scheme now has a pay-monthly option, plus a load of exciting new digital stuff for people who support what we do. It's actually excellent value, honest, and will help us continue to promote new independent artists and labels.
Sign up and you'll receive our physical magazines delivered to your door, our digital editions, exclusive podcasts and playlists and access to our EXTREMELY glamorous Members Lounge. You'll be the envy of all your friends.