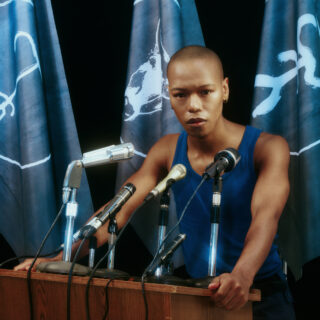 Nakhane
Bastard Jargon
(BMG)
6/10
Bastard Jargon was made in part to be functional. South African-born artist Nakhane wrote You Will Not Die as a personal excavation, unearthing grief and clarity from moments in their early life. They renounced their Christian faith and spoke of the trauma of conversion therapy. It was an expressive collection of songs, though ones that didn't lend themselves to dancing in the mid-afternoon festival slots Nakhane would soon play. 
Now, Nakhane starts with a sturdy percussive backing of programmed shakers and handclaps, building from there. The result is a sleek, propulsive album that places pop thrills front-and-centre.
Still, Nakhane takes a sideways look at common pop tropes like sex and relationships, combining the personal and political. 'Tell Me Your Politik' with Moonchild Sanelly and Nile Rodgers cheekily explores the screening process of hooking up with someone who might have different political beliefs to your own. Frantic group chorus vocals nail the wry tone explored lyrically. 
Occasionally, the record has a stiff approach to dance catharsis, which holds us back from fully giving into its charms. 'My Ma Was Good' stumbles on its rudimentary live piano passage, which feels at odds with the mechanical stomp of the drums.
The record is at its best when marrying its clever lyrics with a bold sound. 'Standing In Your Way' stands out with its panicked and corroded outro, where the glitz of the instrumental is crumbled into dust. When that dust settles, we have a sharp step forward for an ambitious songwriter.
Free Protomartyr flexi disc with this month's magazine
Subscribers to Loud And Quiet now receive a limited edition flexi disc of a rare track with their copy of the magazine
This month's disc is from Detroit punk band Protomartyr