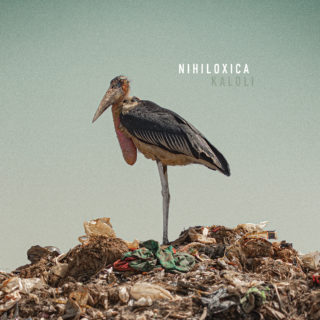 A NOTE: LOUD AND QUIET IS IN DANGER OF CLOSING. PLEASE CONSIDER SUBSCRIBING TO OUR MAGAZINE OR MAKING A SMALL DONATION HERE. THANK YOU.
At some point, it becomes hard to differentiate restless beats from the marching noise outside. Somewhere between flashbangs, choppers and angry voices, Nihiloxica's Bugandan techno takes on a battle drums life force of its own, feeding into the fury pulsing through my windows in downtown Portland, Oregon —and that rightly continues to rage in countless other American cities.
Those charged rhythms aren't a million miles from the group's 2017 debut. The work of British artists Spooky J and PQ in collaboration with Kampala's Nilotica Drum Ensemble, and comprised of seven percussionists, one kit drummer and some analogue synth, it promised a "darker take on traditional Bugandan drumming." Kaloli marches to a similarly percussive beat—a continuation of that intent with familiar techno tropes meeting ancient tradition in ways that are meditative, scattered and agitated as the album shifts through the gears.
Nothing here is one-paced. Sure, you can pinpoint the more relentless techno elements, but it's the diversity of rhythm that gives the album its constantly shifting point of attack. Where 'Supuki' moves with shamanic beats and wheezing organ, 'Gunjala' is all rising tension, '160819' hits with a metallic industrial clang, and 'Mukaagafeero' initially takes things to a slower, sparser space with smatterings of tribal rhythm bouncing over blooming ambience before exploding back into the marching urgency that characterises most of the tracks.
Elsewhere, 'Salongo' walks the line closest to anything resembling 'world music' and 'Bwola' comes to life like an angry groan tube, but 'Busoga' is the standout. Finding a rhythmic equilibrium somewhere between tradition and head down don't-talk-to-me introspection, it might seem strange that a track as loud and lively as this feels like the album's moment of contemplation. Then again, it's the perfect backdrop for these amplified times.
New monthly memberships available
Here's a new thing: our membership scheme now has a pay-monthly option, plus a load of exciting new digital stuff for people who support what we do. It's actually excellent value, honest, and will help us continue to promote new independent artists and labels.
Sign up and you'll receive our physical magazines delivered to your door, our digital editions, exclusive podcasts and playlists and access to our EXTREMELY glamorous Members Lounge. You'll be the envy of all your friends.