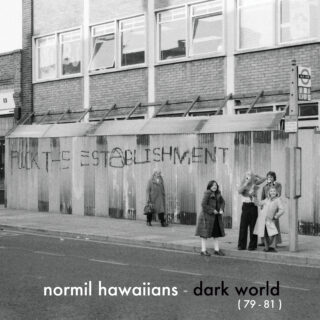 Normil Hawaiians
Dark World (79-81)
8/10
Following the recent excavations of Normil Hawaiians' short-lived catalogue, you'd be forgiven for assuming that history momentarily had them down as the experimental post-punk peers to what Pylon offered the American jangle underground, or Suicide the performative art pop of the early '80s. But Normil Hawaiians were very little more than a well-kept secret even in their native South London, freewheeling an eccentric dub, jazz and motorik blend of DIY noise that never quite oxidized into a Pop Group or Pere Ubu as far as fandom was concerned. To think of the collective as a Perseids meteor shower briefer than John Otway and Wild Willy Barrett, named after an off-piste transmission by the Bonzo Dog Band, is a strangely amusing reminder that nothing is sacred. 
What Dark World – the new compilation of early recordings between 1979 and 1981 – perhaps offers in greater depth than the reissues of their studio albums is a mercurial insight into what made the formative years and make-up of the band so thrilling. Demos and alternate takes tweezer-out the microscopic detail of each member's contribution, from the virtuosic to the talentless, with the tone-deaf and the audiophile side-by-side in perfectly harmonised calamity. An unearthed four-track John Peel session is a highlight, featuring a complete graduation of 'The Beat Goes On' from atonal demo to unlikely alternative hit, alongside the then 15 year-old Janet Armstrong's deadpan performance on 'Ventilation' that set her up for later digressions with David Bowie's Absolute Beginners – "it's so real, so insane." 
Beyond the low-hanging fruit, it's the rotten cores on the ground and barely ripe apples at the top of the tree that are most worth looking at. A dub-heavy 'Should You Forget' is a burnt out yearning for freedom with a trembling build more resolutely searching than the most-rugged of today's experimental noise. From gleeful spoken word exorcisms to choral covers of David Lynch in Eraserhead, Dark World places Normil Hawaiians as half proto-punks, half an English answer Mothers of Invention. This is more than the result of some cursory crate-digging.
Loud And Quiet could do with your help
We love making Loud And Quiet – our magazines, this website, our podcasts and more – but it's become increasingly difficult for us to balance the books.
If you're a reader who'd like to help us keep the show on the road, please consider becoming a Loud And Quiet member. There are options to receive our physical magazines and lots of other extras that are exclusive to our supporters.