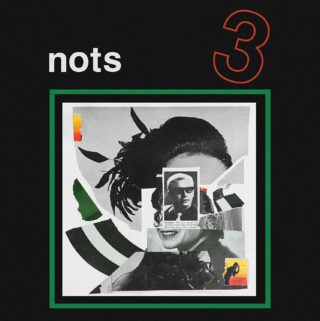 It can be difficult to fill the hole a departed band member has left behind – especially when you might not be so willing to re-recruit. Following the departure of keys player Alexandra Eastburn in 2018, Memphis noise rock outfit NOTS have keyed in a Caps Lock on their name to mark the beginning of a new era, accepting to downsize and move forward as a three-piece. Now that four has become three, the title of their new record both references their restructuring as a unit as well as the album's chronological position in their discography. 3 maintains a stark resemblance of what proceeds it, albeit being a little more washed-out.
Instead of relinquishing the sprawling synth-led texture that featured heavily on 2016's Cosmetic, frontwoman Natalie Hoffmann has adapted her role to disguise any inkling of an unfulfilled void. On singles 'Floating Hand' and 'Half Painted House' she replaces her guitar with the kind of modular drones ripped straight from some vintage Doctor Who audio FX board. When she does resume her usual role, her guitar is often lathered in a thick layer of delay and reverb that both warps and elongates her familiar riff power's razor-sharp edges. Swirling around tracks like 'Surveillance Veil', the writhing distortion creates the kind of overwhelming textures you might expect from your typical noise rock outfit but ultimately leaves a lot of 3 sounding oddly bleached and compressed. Managing to retain their overbearing style and power, it still feels like NOTS are trying to compensate for something.
Loud And Quiet could do with your help
We love making Loud And Quiet – our magazines, this website, our podcasts and more – but it's become increasingly difficult for us to balance the books.
If you're a reader who'd like to help us keep the show on the road, please consider becoming a Loud And Quiet member. There are options to receive our physical magazines and lots of other extras that are exclusive to our supporters.