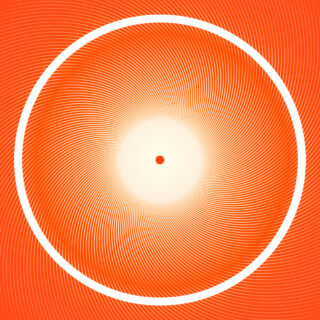 NOUS & Laraaji & Arji OceAnanda
Circle Of Celebration
9/10
If you tried hard enough, you could probably find pandemic-related context in any given release at the minute, but it's particularly hard to shake when considering the backstory to this fourth and final chapter to the American composer Christopher Bono's NOUS project. Bono (no relation, presumably) is a fascinating character in and of himself, having covered ground from roots rock to ambient post-rock in his early career (in the latter case, he founded the band Ghost Against Ghost), before moving onto ambitious collaborative works. Evidently not somebody to do anything by halves, his last undertaking before NOUS was his concept album BARDO, a 60-minute contemporary classical musical drama that took thematic influence from the Tibetan Book of the Dead and was recorded on two continents, with the Prague FILMharmonic Orchestra serving as his 46-piece backing band.
If that was exhausting just to read about, then you can imagine how Bono was feeling by the time he was done with it. Craving a more hands-on role on his next record than he'd had as writer, producer and musical director of BARDO, he pivoted back to playing with NOUS, which was born out of a desire for more intimate collaborative work – get everybody in the same room, set the tape rolling and start improvising, effectively the antithesis of the closely-scripted BARDO.
'Everybody', in this case, refers to a revolving cast of musicians that, across the NOUS sessions, has included a seven-strong core that includes Bono, Real Estate and Titus Andronicus producer Kevin McMahon and Thor Harris of Swans, among others. It's a genuinely varied cast of characters, with some contributors making immediate sense in this experimental context (Shahzad Ismaily, for instance, who's worked with Yoko Ono and Laurie Anderson in the past), and others who seem perhaps a little more incongruous (Anthony Molina of Mercury Rev, or Gyða Valtýsdóttir from Icelandic electronica stalwarts múm, credited here by her solo moniker of Imago).
Viewed now through the prism of the past 18 months, there's obviously an added poignancy just to the very basic concept of musicians sitting in a room and riffing together, and, taken in tandem with the feel and theme of this final NOUS outing, Circle of Celebration feels like an ideal balm for both artist and listener after such a tumultuous period. It's a three-way collaboration between NOUS, the veteran U.S. ambient musician Laraaji and his long-time collaborator, the sound healer Arji OceAnanda, for what the press release posits is a "transcendent experience" that "forces deep and uplifting contemplation".
If this is beginning to sound a touch too Rainbow Rhythms for your taste, stick with it; most striking about Circle of Celebration on first listen is the sheer warmth of it, something partly owed to the richness of the production but, on a deeper level, rooted in the elegant manner in which this stylistically diffuse ensemble weave in and out of each other. In a sense, it's tricky to believe that the whole thing is improvised – surely they'd trip over one another once in a while – but key to the record's success is its epic running time, clocking in at just under ninety minutes, which allows the compositions plenty of room to breathe and allows the musicians involved to give each other the necessary space.
Some of the tracks represent genuine odysseys; the near-13-minute 'Hari Ram' feels like the centrepiece, not just because of its placing but because it embodies the experimental spirit of the project so wholly, with the spiralling chanted vocals dipping in and out of the mix over a backdrop of twinkly guitars, tribal percussion (which, at one thrilling point, encompasses an old-fashioned drum solo) and bursts of shimmering synth. 'Through the Veil' inverts the formula, bringing Bono's post-rock chops to the fore, sprinkling over some Vangelis-style keys, and still, improbably, proving a fitting sonic environment for thoroughly soulful vocals.
Elsewhere, there are moments of quiet reflection ('Floating') and soothing interludes to provide pause for thought in between the intensity of the longer tracks; crickets chirp and water gently laps in the background on 'In This Light'. It's on the panoramic closing track, meanwhile, that everything comes together at its most spectacular; clocking in at not far shy of twenty minutes, 'Giving Praise' serves as NOUS in microcosm, a relentlessly shape-shifting exercise in exhilaration. Circle of Celebration is a stirring ode to the power of collaboration, but also, in simpler terms, to music's role as a vehicle for sheer joy.
Free Protomartyr flexi disc with this month's magazine
Subscribers to Loud And Quiet now receive a limited edition flexi disc of a rare track with their copy of the magazine
This month's disc is from Detroit punk band Protomartyr