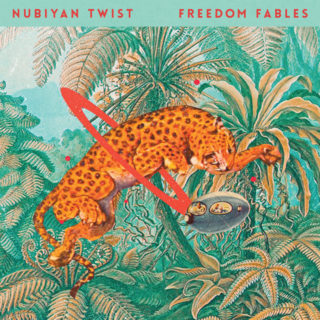 Nubiyan Twist
Freedom Fables
(Strut)
8/10
Nubiyan Twist take a leap out of the densely packed crowd of UK jazz, soul and folk music collectives with Freedom Fables, a summation of the group's talent that sees them elevated into the highest tier of their cohort. 
The Leeds-conceived, London-based project's third album traverses musical and social histories with lightness and dexterity, weaving nine tales of personal memoir into one long call for unity. 'Buckle Up' sees Soweto Kinch, the UK sax player and rapper, and Nubiyan's resident vocalist Nick Richards communicate the importance of looking inwards to find the answers you need, while Kinch's alto noodles rather than parps, as if rifling through his subconscious while millions of memories flash by at a speed too fast for his mind's eye to keep pace with.
Just as easily, Nubiyan turn their hand to hip-swivelling Brazilian rhythms on 'Keeper', where regular collaborator Cherise's hollers of "We fight the keeper of the keys" come off like a global call to arms, while 'Ma Wonka' features a guest turn from Ebo Taylor protégé Pat Thomas on vocals (the man often referred to as The Golden Voice of Africa) on a highlife track that could pass as the greatest dusty bargain bin discovery of your life.
The stylistic shifts don't end there: 'Flow' is a tale of anxiety told with a jerky jazz-cum-R&B forward motion that calls to mind Esperanza Spalding and is the sort of track that could easily see Nubiyan reach new audiences with its more accessible arrangement, as does '24-7', a smooth, smoky number with vocals from Ego Ella May that recently found itself making national radio playlists. 
Album standout 'Tittle Tattle' is an attack on the crawling, pernicious power that gossip continues to cast over us, its soukous rhythms clashing with UK garage-like beats before it bursts into a spider-dancing sax funk breakdown. There is no suggestion that the group have softened their edges or muted their ambitions; on the contrary, this would seem to be the record that has unlocked their most potent weapon, which is storytelling.
New monthly memberships available
Here's a new thing: our membership scheme now has a pay-monthly option, plus a load of exciting new digital stuff for people who support what we do. It's actually excellent value, honest, and will help us continue to promote new independent artists and labels.
Sign up and you'll receive our physical magazines delivered to your door, our digital editions, exclusive podcasts and playlists and access to our EXTREMELY glamorous Members Lounge. You'll be the envy of all your friends.