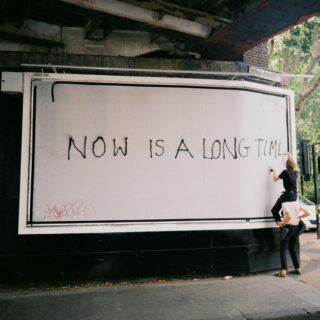 Otzeki
Now Is A Long Time
8/10
Whether crammed inside backroom pub venues or behind the decks of blaring nightclub sound systems, London-based electronic duo Otzeki remain ambivalent as to exactly where their music belongs. The cousin duo, whose early drunken jam sessions were stripped back to guitars and a semi-functional drum machine, have since cultivated a trademark brand of indietronica that succeeds in unifying praise from late-night ravers and sticky basement gig-goers alike. Back with their first new music in two years, the pair's second album, Now Is A Long Time, reclines into the foundations carved out from their debut by continuing to transmit a socially-engaged message of hope and sanity to a world still struggling to get back to its feet.
Textured guitars and intricate layers of sparse electronic programming spill into '90s trip-hop and lo-fi house rhythms. Mike Sharp's cloudbusting falsetto establishes itself from the get-go as it glides above the dense production on 'Sweet Sunshine'. Rarely does anything sound sedated, the duo's euphoric sound refracted through rich, permeating waveforms. Flat-out infectious, but always challenging the conventional pop structure, they indulge in hookier grooves on 'Max Wells-Demon'. Otzeki's impulse to be catchy yet confrontational sure feels like a thrilling mission statement.
Subscribe now. Cancel anytime
Go on, give us a go
We love making Loud And Quiet – our magazines, this website, our podcasts and more – but it's become increasingly difficult for us to balance the books.
If you're a reader who'd like to help us keep the show on the road, please consider becoming a Loud And Quiet subscriber. There are options to receive our physical magazines and lots of other extras that are exclusive to our supporters.