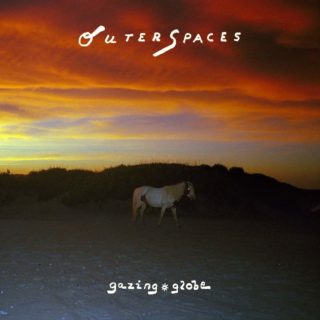 Outer Spaces
Gazing Globe
7/10
Cara Beth Satalino is an artist used to isolation. Raised in a rural New York town with a population of less than five hundred, she taught herself to play guitar by ear; a self-described "poor collaborator", she formed Outer Spaces as a vehicle for solo expression. Finding herself alone again during a break from a long-term relationship, Satalino's sophomore record, Gazing Globe, sits in this solitude, serving as a journey of self-reflection and self-discovery. 
Despite the turmoil that inspired its conception the record is upbeat and assured, and jam-packed with glistening guitar riffs and snug drum beats. These are delicate, lovely indie-pop songs imbued with an inexplicable fortitude. Satalino's voice is controlled yet sensitive; her lyrics dance between confessional and deeply figurative. The charming 'Truck Song' is a love letter to the tour vehicles that have carried her, finding wisdom and instruction in their breaking down: "Get on your feet/ You're on your own".
Looking at the world in a gazing globe, what you see is reality, but distorted, augmented; and the record is as iridescent as images conjured by its namesake. "I saw your reflection in the gazing globe," asserts Satalino on the title track, perhaps addressing herself. 
Free Protomartyr flexi disc with this month's magazine
Subscribers to Loud And Quiet now receive a limited edition flexi disc of a rare track with their copy of the magazine
This month's disc is from Detroit punk band Protomartyr