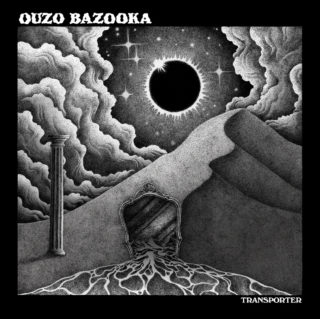 Ouzo Bazooka
Transporter
5/10
Ouzo Bazooka are musical magpies. Formed in Tel Aviv by Uri Brauner Kinrot, the band have built on Middle Eastern stylistic roots with elements of psychedelia, surf and garage rock, layering scales with anything shiny that they can get their hands on. This third record is billed as a maturing of style, the propulsive beginning of an epic new chapter. Unfortunately, while 'Transporter' is musically ambitious and even impressive, it is let down in places by clunky lyrics and occasionally lazy wordplay. 'Latest News' for example, is a spiralling fusion of fuzzed out guitar and eastern sounds, but the suspension of disbelief is shattered by lyrics like "Dracula is drinking coke/ Global warming is a joke", swiftly followed by "Have you read the latest news? Walking dead ain't got no shoes." The track could reasonably be a take down of consumer culture, or an observation on our current global climate, but it also veers uncomfortably close to 'wake up sheeple' heavy-handedness.
In fairness, Ouzo Bazooka are looking to expand their creative palette here, and are not entirely unsuccessful. Their instrumentation is playful but tight, and the album as a whole cohesive. By and large, their sonic collage style works. Still, some elements feel slightly too familiar, as with the extreme hair-rock vibes of 'Revolution Eyes' – a track which has also fallen victim to the 'I see what you did there' school of lyricism.
Musically, Ouzo Bazooka remain promising. But 'Transporter' is not the great leap forward they hoped for.
Free Protomartyr flexi disc with this month's magazine
Subscribers to Loud And Quiet now receive a limited edition flexi disc of a rare track with their copy of the magazine
This month's disc is from Detroit punk band Protomartyr