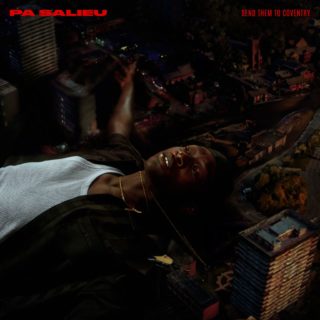 Pa Salieu
Send Them To Coventry
8/10
Listening to the debut mixtape from Pa Salieu is like catching up on the travel that 2020 has denied you. The British-Gambian rapper's music has its roots in multiple continents and is conversant in countless different musical languages, from afrobeats and drill to dub and trap, but shows no blind obedience to any single one.
His major breakthrough, 'Frontline', is the best example of his undefinable, genre-unbound aesthetic. The track's infectious, playful hook proved to be the 23-year-old's gateway to major radio playlists earlier this year and to the ears of some soon-to-be-influential friends (he has since recorded with FKA Twigs, among others). 'Frontline' can, broadly speaking, be defined as an afrobeats track, but it does not have the same melodic dependence or chartbound instincts as the likes of Kojo Funds or J Hus; rather Pa Salieu is more inclined to dig around in the dubby low-end beats that defined early grime records.
But that is just one example. 'No Warnin'' leans heavily into dancehall, complete with a strong feature from Trinidad's Boy Boy (both artists have named Vybz Kartel as a major influence), whereas 'Betty' fizzes with the crackle of compressed drum beats and the clicking spit of Pa's toasted chorus, making it the most kinetic, grinding track not to hit clubs in recent months. The Betty in question is perhaps not the romantic interest that she may at first seem, with Pa's lyrics appearing to recall his days of "selling this and that", as he quaintly put it in a recent interview, but nevertheless the track is the most certain sign so far that this is an outstanding talent, boasting the wisdom of a veteran and the effortlessness of a star.
His backstory is writ large, from the title down: Pa Salieu moved to his family's native Gambia as a baby to live with his grandparents, before moving to Coventry aged ten. An entangled journey through the city's streets saw his closest friend AP killed in 2018 and Pa himself shot in the head a year later. His reflections are open and often close to confessional, especially on 'More Paper' or 'Block Boy', but the defining mood on Send Them to Coventry is joy. The giddy shock of the possible emanates from nearly every track, with Pa constantly pushing out at the boundaries of his musical horizons, and when you've been confronted with a reality that seems to want to limit your very capacity for joy, that is some testament to Pa's spirit.
Free Protomartyr flexi disc with this month's magazine
Subscribers to Loud And Quiet now receive a limited edition flexi disc of a rare track with their copy of the magazine
This month's disc is from Detroit punk band Protomartyr