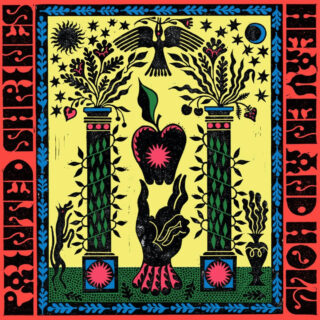 Painted Shrines
Heaven and Holy
(Woodsist)
6/10
Painted Shrines is a new partnership between Jeremy Earl (Woods) and Glenn Donaldson (Skygreen Leopards). The pair met in the mid-'00s and have collaborated numerous times, most notably on the 2011 Woods album Sun And Shade. 
Their first official collaboration, Heaven And Holy, was recorded in a week in 2018 after Earl accepted an invitation to visit Donaldson's coastal studio in Northern California. Jeff Moller (Papercuts) added bass and the final touches were made during lockdown. The 12 tracks maintain the effortless feel of the initial recording session, sounding fresh and unforced.
Given the pair initially bonded over their love of tambourines and DIY there's little that will surprise on their debut. This is the psych-folk sound of The Byrds being played through the jingle-jangle morning of '80s indie, especially the Stone Roses. There's nonetheless a sweet melancholy to the harmonised tracks that make them comforting.
Earl has spoken of the "carefree, spontaneous, and raw" nature of the recording process and this is apparent throughout. The natural empathy between two friends flows across the material, the hazy dreaminess of which evokes the geography of the recording location. It's always summer in their world, even when a touch of pain appears. "You're not as dumb as they say," comforts Earl on 'Not So Bad', with all the teen angst sweetness of Big Star.
The time limitations of recording are evident on a couple of tracks. 'Panoramic' sounds more like a backing track for a mid-'80s indie band than a standalone instrumental. 'Coast' fares better, capturing a sense of place with its rippling guitars and keyboard, as does the wistful, almost ambient 'Soft Wasp'. This is about as experimental as they get, excepting the gurgling noises in the background of 'Fool', but innovation is not the point of the comfortable, retro Painted Shrines.
We're not being funny...
… but can you become a member please?
It's actually excellent value, and will help us continue to promote new independent artists and labels.
Sign up and you'll receive our physical magazines delivered to your door, our digital editions, exclusive podcasts and playlists and an actual bookmark, as if printing a magazine in 2021 wasn't old fashioned enough.
6-month and full year memberships are available now. Fancy it?