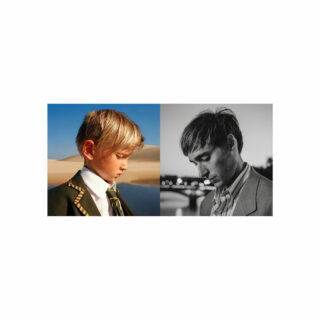 If minimalism is meant to be the order of the day as we head into the latter stages of 2021, it seems Parcels have missed the memo. Ambitious and opulent in length as well as genre, the Byron Bay-via-Berlin fivesome's latest offering is a lavish nineteen track expedition that unearths a melee of fresh sounds and newfangled textures. At times ditching danceability in favour of sprawling, cinematic soundscapes, Day/Night evolves from the band's 2018 debut just enough to keep things exciting without losing sight of it's signature disco funk charm. 
Tracks like 'Somethinggreater' – a playful and controlled cut driven by a springy bassline and vintage funk guitar licks – and the gleaming and groovy '70s disco number 'Famous' have quintessential Parcels DNA running through their core, while 'Outside' and 'Reflex' float into more stripped-back waters with gauzy vocals and slackened instrumentals carving out a silver screen-worthy soundtrack. 
'SHADOW' ramps up the atmospherics as scenic string rhythms whir against omnipotent injected vocals. Likewise the impending instrumentals, isolated keys and sweeping cymbal riffs on 'Neverloved' also take on a darker quality, controlled yet meandering with a jazzy feel, like the soundtrack to a bad '80s spy film. Other moments trawl the band in yet another direction entirely: take 'Free,' a lackadaisical, feel-good moment underpinned by a light mesh of ascending keys, salient string licks and gospel-esque vocals, or 'Comingback', a runaway rollercoaster of a track that gets itself carried away with an agitated instrumental led by brisk guitars and sprinting drum beats.
But, for all the many sonic worlds Parcels sculpt during the record's almost two hour run-time, Day/Night doesn't feel like the result of chucking everything at the wall – or in this case at James Ford and the walls of Paris's La Frette Studios – and seeing what sticks. Just as structured as it is sprawling, the album feels meticulous even in its moments of mayhem and some of its highlights come in the form of its most risky cuts. 'LordHenry' for example, a jittery yet swaggering jaunt whose ceremonial, Downton Abbey-worthy blares quickly descend into swelling and synthy disco-funk rhythms, proves that its lengthy format isn't Day/Night's only well-executed gamble. 
And well-executed it definitely is. Day/Night is a gargantuan album in a way that not many bands would be able to pull off; an interminable journey in length just as much as breadth, that never quite oversteps the fine line between longevity and tedium. As the closing bars of final track 'Inside' fade out into the first beats of cinematic opener 'Light,' there's a palpable notion that Day/Night's tracks might not be quite as effective if they stood alone, and that the album itself is integral to the allure of its individual moments. Rather than plucking out specific songs to play on repeat or extract into separate playlists, Day/Night feels more like a case of sitting down and buckling up for the ride; but its transcendental, multi-faceted disposition suggests that maybe the journey is better than the destination.