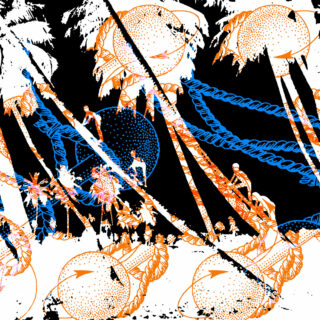 Parris
Soaked In Indigo Moonlight
8/10
Over the course of his career to date, London producer Parris, aka Dwayne Parris-Robinson, has put together a modest stable of charismatic and spirited contemporary electronic compositions. Increasingly established in the UK dance scene, Parris spent his early musical investigations cutting his teeth in the capital's clubs as the dubstep scene emerged in the early '00s, delivering acts like James Blake and Mala, and weaving into the development of grime in the process. Perhaps unsurprisingly, in his music you can hear these influences infused in his production techniques. Heady polyphonies akin to Skream and Benga collide with the nose-shaking low end of James Blake, before blossoming with more organic sounds and rhythms more associated with the scene that was developing around the same time across the pond – specifically in Brainfeeder-affiliated LA beatmakers like Teebs and Nosaj Thing. 
On his full-length debut, Soaked in Indigo Moonlight, Parris is afforded more time and space to explore a richer sonic canvas, allowing a comprehensive view of his capabilities to emerge. Yes, there are relics of post-dubstep and UK bass audible here (see 'Poison Pudding' and 'Contorted Rubber'), but there's also fresh and spontaneous experimentalism. Vibrant vocal collaborations, prying time structures and bookending ambient tracks are all lodged alongside distinct pop inflections; tracks like 'Skater's World' demonstrate this best, employing day-glo vocals and glitchy beat sampling that nod towards hyperreal computer-pop and the sample-heavy derision of vaporwave. 
Soaked in Indigo Moonlight is a pop-influenced but club-focused affair. Through its dynamic experimentalist approach, it provides a bright, uplifting and spontaneous impression there's more than enough to interest new ears. Its grounding in UK club culture imposes a specifically and inimitably British sound will keep even the most hard-nosed in the scene involved, and taken as a whole, there is more than enough to establish Parris as a leading name in the next wave of contemporary UK electronic artists.
Free Protomartyr flexi disc with this month's magazine
Subscribers to Loud And Quiet now receive a limited edition flexi disc of a rare track with their copy of the magazine
This month's disc is from Detroit punk band Protomartyr