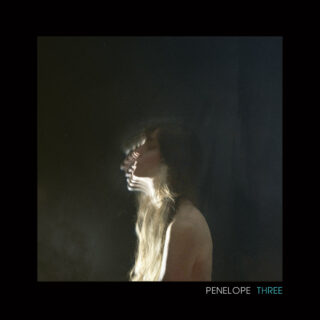 Penelope Trappes
Penelope Three
6/10
Penelope Three begins with a field recording of sea birds and cool ambience. It's a rare moment of fresh air before we're submerged in into the gothic atmosphere that often cloaks a Penelope Trappes song. The Australian-born musician has used that atmosphere to captivate over three self-titled and interlinked releases. These are minimal songs built on whisper-quiet melodies, but the air that hangs in the silent moments feels heavy, like she has the power to pull particles closer to the ground. 
Since Penelope Two, the drums have gotten punchier, and the mix is alive with icy electronics like that heard on the Eel Drip EP from last year. Largely though, this final part of a personal trilogy uses the same timeless approach as her other records – distant piano chords, eerie cello drones, and her commanding vocal that moves from operatic to intimate. Pieces of shoegaze, dream-pop and classical shine through before disappearing into the murk.
Each song unfurls patiently, and what begins as a half-invisible ballad could morph into a dense soundscape by the end. 'Forest' hangs on little but a two-note creeping guitar line before filling out with hypnotic vocal layering. 'Blood Moon' grows into a gorgeous slow-motion ballad worthy of vintage 4AD records. The power of a song can occasionally get lost in the haze. 'Halfway Point' becomes muddied as the vocals and guitar bleed into each other. When your sound is so reliant on a singular vibe, the rare moment that distracts from that vibe sticks out.
Still, the album's best moment is left to the closer, 'Awkward Matriarch'. It's a song about Trappes' complicated relationship to motherhood. The song captures all her frustrations with a genuinely impressive and emotional crescendo. Although she's been consistently performing for years in jazz and classical circles, Trappes hadn't written music of her own until after the birth of her daughter. It's fitting that the end of this trilogy rests on emotions core to its beginning. The album ends with us hung in that atmosphere, unsure if its creator will rise to the surface or sink even deeper into the depths.
New monthly memberships available
Here's a new thing: our membership scheme now has a pay-monthly option, plus a load of exciting new digital stuff for people who support what we do. It's actually excellent value, honest, and will help us continue to promote new independent artists and labels.
Sign up and you'll receive our physical magazines delivered to your door, our digital editions, exclusive podcasts and playlists and access to our EXTREMELY glamorous Members Lounge. You'll be the envy of all your friends.