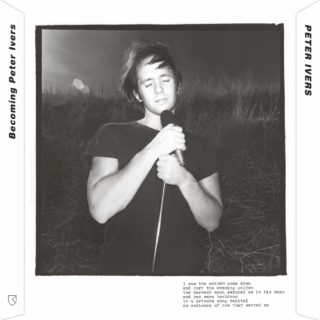 Peter Ivers
Becoming Peter Ivers
7/10
In one iconic scene during David Lynch's Eraserhead, the mysterious Lady in the Radiator begins performing to an empty auditorium. "In heaven, everything is fine," she sings queasily while an ominous organ looms in the background. It's a moment that still stands out for its eeriness in a film not short on nightmarish sequences. The song has since inspired numerous covers, but was originally composed for Lynch by Peter Ivers – a cult L.A. musician whose brutal murder in 1983 remains unsolved.
Ivers made two solo albums before his untimely death – both were certifiable flops upon their release in the mid-'70s, rejected by a mainstream that couldn't warm to his nasally voice. But four decades on the songwriter's playful arrangements and bohemian lifestyle continue to intrigue a growing community of fans.
Created with the blessing of Ivers' close friends, a new compilation album from RVNG.Intl recovers a wealth of the musician's previously unheard demos and studio takes (including his own version of 'In Heaven'). The double LP captures a prolific artist navigating each phase of his creative process, rewarding uninitiated listeners and devout followers alike with its tenderness and frequent humour.
Ivers can be heard chipping away at ideas, thumping the keys of his home piano on rough sketches of tracks like 'Untitled'. There is a solemn beauty to these early drafts: his voice cracks when trying to process heartbreak on 'The Night You Didn't Come', while 'Even Stephen Foster' sounds melancholic and confessional. Ivers is a vivid storyteller, taking care to drape his words over a laid-back electric guitar on 'I've Seen Your Face'. Elsewhere, he plays his harmonica with such lyricism that the lack of spoken words on 'Window Washer' and 'Nirvana Cube Waltz' goes unnoticed.
There is a playful slinkiness to the music that evokes Hunky Dory-era Bowie. A cast of characters star in late night vignettes, with Ivers barely concealing a string of euphemisms on 'Holding the Cobra' and 'Deborah'. Uncluttered songs are elevated by saxophones or strings only when the moment calls for them; when the groove clicks, as it does on 'Miraculous Weekend', the results are infectious.
Becoming Peter Ivers is an archive of often semi-complete ideas. Its songs do not develop a common narrative thread but instead dig into the mindset of a nonconformist and celebrate his unique inventiveness.
New monthly memberships available
Here's a new thing: our membership scheme now has a pay-monthly option, plus a load of exciting new digital stuff for people who support what we do. It's actually excellent value, honest, and will help us continue to promote new independent artists and labels.
Sign up and you'll receive our physical magazines delivered to your door, our digital editions, exclusive podcasts and playlists and access to our EXTREMELY glamorous Members Lounge. You'll be the envy of all your friends.