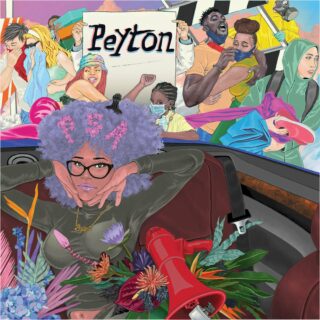 Peyton's musical identity stands on the twin pillars of heritage and geography. Her grandmother, Houston gospel composer and Grammy Award-nominated songwriter Theola Booker, helped to cultivate Peyton's musicality, and her childhood blazed with vocal performances in torrid Texan churches and classical ensemble performances. PSA, the Houston-based singer-songwriter's debut album, is an ode to the linchpins of both her sound and her selfhood: her upbringing and her home state of Texas. 
Nowhere is this brought to life more than on the album's second track, 'Let it Flow,' a track that is, at its heart, about self-reliance, about trusting yourself and your own intuition. Layered drum machine beats, synths and backing vocals lend an air of quiet confidence to the track, which is only thrown into sharper relief as Peyton tells herself – and her listeners – "It'll be all right / Oh, time to let it go," with a choral persistence that is impossible to ignore. Indeed, self-love and an appreciation for her roots lace all of Peyton's songs, from the summery hopefulness of 'Don't U Wanna Fly' to the album's closing track, a cover of Gene Wilder's 'Pure Imagination,' brought to life with a contemporary Texan twist. Throughout and at its conclusion, PSA radiates self-assuredness, and it's really refreshing.
Loud And Quiet could do with your help
We love making Loud And Quiet – our magazines, this website, our podcasts and more – but it's become increasingly difficult for us to balance the books.
If you're a reader who'd like to help us keep the show on the road, please consider becoming a Loud And Quiet member. There are options to receive our physical magazines and lots of other extras that are exclusive to our supporters.