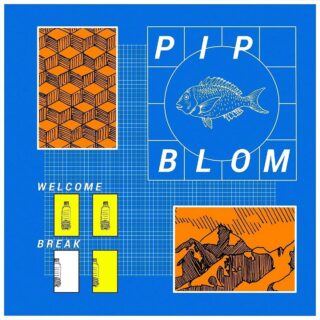 Pip Blom would have sounded perfectly at home on a post-grunge compilation tape when they debuted in 2019 with Boat. Not much has changed for the Amsterdam revivalists on their follow-up Welcome Break, which is self-produced and was recorded in just three weeks.
The quartet, who take their name from their singer-songwriter and guitarist, continue to be influenced by the Britpop acts they grew up listening to. This translates into 11 tracks with bulletproof melodies and a keen sense of loud-quiet dynamics. 
These qualities are bolstered by their ability to capture their gig energy, with tracks being assembled out of live takes. It's a technique that's at its strongest on the fuzz-pop of 'You Don't Want This', which could be a Lemonheads cover, 'Keep It Together', which has the cuteness of a grungier Camera Obscura, and the slightly spikier 'Not Easy To Like'.
The musical fizz is occasionally peeled back to reveal lyrical sadness ("I'm feeling homesick," Blom admits on 'I Love The City') but for the most part the vocals are mixed low enough to be of secondary concern. It's an approach that places the focus on the indie-pop tunes and offers a welcome break from more po-faced acts.
Try free for 30 days
For a limited time you can try out our memberships for free.
Sign up to receive our current magazine, playlists, podcasts, full site access, record discounts and more for absolutely nothing.