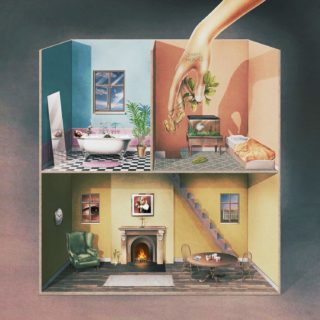 Pixx
Small Mercies
(4AD)
6/10
Hannah Rodgers' debut album as Pixx was an inward looking journey into her experience of anxiety. For her follow-up, 'Small Mercies', the London-based musician has flipped her gaze outward and to a world gone mad. The 13 tracks are built around personas that explore, amongst other things, religion and environmental destruction.
Musically, there's also been a shift. Where 2017's 'The Age Of Anxiety' was rooted in the ethereal electro of Morcheeba and Zero 7, the Brit School graduate has now expanded her influences and gained an interest in big pop hooks.
There isn't quite one style for each character but the tracks have multiple reference points, with 'Funsize' being the closest in spirit to Pixx's debut. The synth-centric numbers time slip to the '80s, especially breezy opener 'Andean Condor' and the title track, the motorik groove of which recalls Stealing Sheep. 'Duck Out', meanwhile, combines these elements with a gothic sensibility via its early New Order bass line.
In addition, the personas have demanded a shift in instrumentation through the introduction of guitars. The punk-pop attitude of 'Bitch' sounds like Du Blonde baiting Nirvana; 'Hysterical' is a throwback to Long Blondes guitar pop; and 'Blowfish' is pretty dream-pop.
The extremities of these disparate sounds don't always gel. 'Bitch', in particular, is a strong track that could have been cut from another album. For the most part, though, 'Small Mercies' is far from being a disgrace and is a marked step forward from her folk-edged beginnings. 
Free Protomartyr flexi disc with this month's magazine
Subscribers to Loud And Quiet now receive a limited edition flexi disc of a rare track with their copy of the magazine
This month's disc is from Detroit punk band Protomartyr