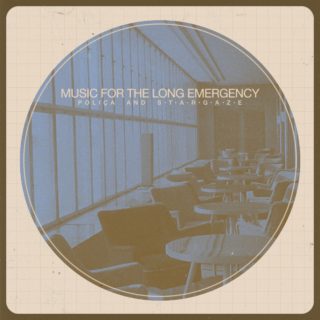 Poliça and s t a r g a z e
Music For The Long Emergency
8/10
One of the prevailing trends in contemporary music is the integration of modern classical composition into the established alternative scene. Poliça, the Minneapolis quintet whose indietronic synthpop three-album career has earned them a substantial reputation, are the latest to get in on the act, releasing a full length record in collaboration with the Berlin chamber orchestra s t a r g a z e, who themselves have previously worked with John Cale and Deerhoof.
Having tentatively worked together on a Steve Reich piece last year, the two outfits developed this record via what Poliça producer Ryan Olson describes as a "ping pong relationship", exchanging emails and PMs back and forth across the Atlantic, before they finally began recording in a room together the day after Trump's election victory. That day saw Poliça frontwoman Channy Leaneagh pen the 10-minute album highlight 'How Is This Happening', which features a haunted, crawling, low-strung string arrangement underpinning Leaneagh's desperate lyrics ("Resisting him resisting us" is the mantra). It captures that hellish combination of confusion, anger and fear that so many felt during the period.
It isn't all despair, though. The luscious opener 'Fake Like' is tremendously warm, with s t a r g a z e's woodwind section sprinkling the mix at will while the strings resist any obvious clichéd crescendos. 'Speaking of Ghost' is appropriately spectral, as though soundtracking a panicked scramble through a midnight graveyard, an imaginary protagonist darting and tripping, barely daring to look back over their shoulder. There's also an experimental flavour to 'Cursed', with its flourishes of obscure white noise and pitch-shifted vocals.
You can't see the join between the two collaborators, which allows the project to avoid any sense of novelty. The depth of arrangement that the orchestra offers is more than complementary to Poliça's songwriting, producing an overall result that's something of a career highlight for all concerned. 
Free Protomartyr flexi disc with this month's magazine
Subscribers to Loud And Quiet now receive a limited edition flexi disc of a rare track with their copy of the magazine
This month's disc is from Detroit punk band Protomartyr