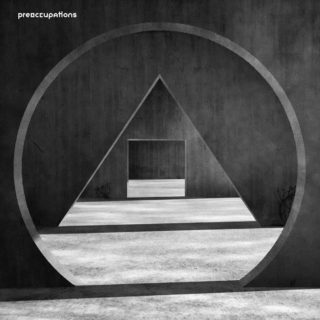 Preoccupations
New Material
7/10
The last Preoccupations record had them facing up to an identity crisis; they were having to ditch the Viet Cong moniker, the fallout from which had followed them incessantly even as the self-titled debut that they'd released under the name had been meeting with rave reviews. As inelegantly as they dealt with the controversy to begin with, when they finally faced up to the issue and reinvented themselves as Preoccupations, they did so with real nuance; the very musical philosophy of the group, you felt, had been subtly tweaked, just enough to almost trick you into thinking this was, again, a new band. The Viet Cong record had been subject to constant comparison to Women's 'Public Strain', given that Matt Flegel and Michael Wallace were in both groups, and 'Preoccupations' began to lean away from 'Viet Cong''s walls of shimmering guitar and towards its own, cleaner post-punk sound.
On 'New Material', the Canadian band continue down that path apace; the lines on this album are lean to the point of being clinical, and the tempo is relentless, with the prominent rhythm section rattling along with more purpose than on either of this album's predecessors. So set in stone is the record's sonic identity – in thrall, clearly, to the likes of Wire and Joy Division – that the most exciting moments creep up on you; the quiet harmonies on 'Disarray', for instance, or the fluttering synths that run through 'Manipulation'. Viet Cong are now firmly in the rear-view mirror, although given how indebted they remain to their influences, Preoccupations don't quite feel like their own band yet, however well they wear melodic moodiness.
Loud And Quiet could do with your help
We love making Loud And Quiet – our magazines, this website, our podcasts and more – but it's become increasingly difficult for us to balance the books.
If you're a reader who'd like to help us keep the show on the road, please consider becoming a Loud And Quiet member. There are options to receive our physical magazines and lots of other extras that are exclusive to our supporters.