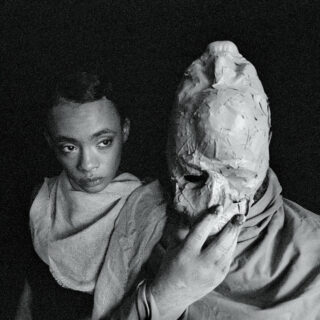 Protomartyr
Formal Growth In The Desert
(Domino)
9/10
ALBUM OF THE WEEK
Subscribers to L&Q get an exclusive Protomartyr flexi disc with this month's issue of the magazine. Find out more here. 
Protomartyr have now released six albums, but 'The Author', the penultimate track on their latest, Formal Growth In The Desert, must be their tenderest moment to date. Stripped of esoteric references, double speak or adoptive voices, it's an ode to singer Joe Casey's now-deceased mother. With a cracked and rasping baritone the vocalist barks out directives for the listener: take a seat, celebrate the lives of those who created us, and cherish those we love. As the song plays out the band contort into a jittery and celebratory outro. It's a surprisingly good fit for what often sounds like a post-punk function band, hired to play out the end times.
Those schooled in the Detroit four-piece's previous output will be familiar with Casey's fine lyrical form and noteworthy delivery. The frontman swills his words around like they're hard liquor; spitting some phrases out with contempt, whilst savouring other stanzas. Over album opener 'Make Way's Spaghetti Western evocation of vast spaces, the vocals act as a comforting hand on the shoulder. The lap steel meanwhile ushers in new territory for the band.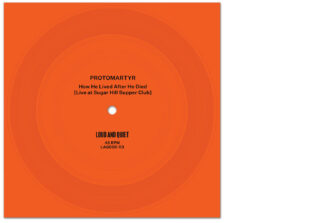 Speaking ahead of the album Greg Ahee, guitarist and 'musical director', said: "People always talk about Joe's lyrics as a narrative, like he's telling a story, so it only made sense to use the music as you would in a film to elevate that story". The story at the start of 'Fun In Hi Skool' is pure ominous dread. It's all bovver booted menace with snatched vocals spitting the first syllable and snubbing the rest of the word. The impression left is of rage with an urgency. There's a featherweight feel to Alex Leonard's drums; lithely skipping in patterns like those The Raincoats brought to Odyshape. The sound is of a band in perfect harmony, though the words are from a man in total despair: "I hope that you had fun in hi-skool / I hope that you had fun and didn't know / The dark shit bad words foaming in your mouth."
Now into their second decade, it's interesting to note how the musical landscape has shifted since Protomartyr's inception. In that time a doom-laden sprechgesang has gone from niche to du jour. In '3800 Tigers', against guitars like furious pistons, Casey imagines his beloved Detroit Tigers as baseball world beaters. In this fantasy his team's form, like their class, is permanent. Six records in, the same could be said for Protomartyr.