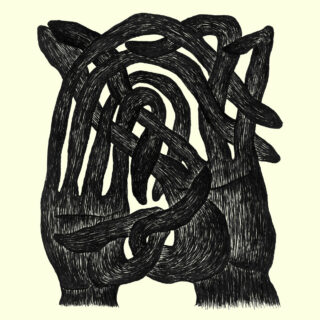 Rian Treanor & Ocen James
Saccades
8/10
Following 2020's hyperactive File Under UK Metaplasm, Rian Treanor's latest project finds him collaborating with Acholi fiddler Ocen James after meeting at radical Kampala dance label Nyege Nyege's studio. But to frame it only in terms of Treanor would do everyone involved a disservice: on Saccades, James' one-stringed instrument pushes his collaborator into loosening his robotic focus, forced into responding with a freeform urgency. 
Having searched for ways that his digital instruments could keep pace with James' playing, Treanor uses physical modelling to build reactive and intuitive computer music around it. The push and pull is palpable and, together, the two musicians build a collection of twitchy and curious tracks. 'Rigi Rigi' pairs vibrant dancefloor percussion with a fiddle melody to enthralling effect; 'Casascade' spotlights the deep emotion in James' playing against complementary warm synths. 
Initially only chirping and howling against Treanor's hypnotic, metallic rhythms, an early pivot sees James and his instrument eventually bloom on highlight 'The Dead Centre'. Looping strings reminiscent of composer Steve Reich meet blanketing drones, percussive shrouds and ringing bells, which help to elevate his passionate performance even further. An aggressive remix from the legendary Farmers Manual caps the album with its only vocal samples and one last thrilling stylistic shift.
Like many collaborative efforts, the album occasionally feels unfinished but here it's part of the appeal, the final result stitched with an energy both anxious and excited. Treanor and James inquisitively cover ground in all directions, never sounding stagnant nor outstaying their welcome: a revelation.
Free Protomartyr flexi disc with this month's magazine
Subscribers to Loud And Quiet now receive a limited edition flexi disc of a rare track with their copy of the magazine
This month's disc is from Detroit punk band Protomartyr