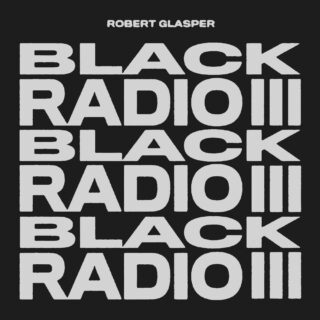 Robert Glasper
Black Radio III
5/10
Perhaps the biggest triumph of Black Radio III is that it gives Robert Glasper the opportunity to refocus his career for a moment on the first two releases in the franchise. It's hard to say that the one-two drop of Black Radio and Black Radio II didn't garner a fair amount of acclaim – or whatever Grammy Award-winning means to you – but Glasper's virtuosity has since justifiably been reframed by his Dinner Party project with Terrace Martin, Kamasi Washington and 9th Wonder, alongside collaborative work with the likes of Kendrick Lamar, Mac Miller and Anderson .Paak. It's easy to forget that albums didn't sound like Black Radio a decade ago, just as jazz records didn't sound like Bitches Brew until they did. 
While concision has never been Glasper's strength, Black Radio III exemplifies a tale of two halves. The first is as gloriously meandering as it is resolute; a profusive funk odyssey on which space-age jazz meets marauding gospel, and an idiosyncratic calm clashes with forceful vocalisations of strength and blackness. Amir Sulaiman's stirring introduction 'In Tune' even sounds like a portal to UK jazz and the spiritual sides of the Brownswood-come-Black Focus scene that borrow most lavishly from Afrofuturism: "Once we're in tune, oh we can conduct the cosmos." The early standout 'Black Superhero' features Killer Mike rapping above a silky-smooth R&B hook and heavenly, open-hearted choral section that could have been airdropped from Kamasi Washington's The Epic. It's lyrically marathon, too – resolutely together, consistent despite its conveyer-belted guests, from forging a new Captain America shield with cymbals to redefining black role models on Q-Tip and Esperanza Spalding's 'While We Speak'. 
And then he covers Tears For Fears' 'Everybody Wants To Rule The World', reversing all the aforementioned hypnosis into a stretched out birthday sing-a-long drawl too boring for a John Lewis ad. In previous iterations of Black Radio, Glasper's covers have been playful highlights – be it Bowie by minimalist piano or Nirvana by vocoder – but this is a notable digression, emboldened by the absence of the otherwise ubiquitous Robert Glasper Trio. It's a sore oversight. 
From here, the record feels slowed down unintentionally – stuck in the mud – always a pace behind where it should be. Gregory Porter and Ledisi's feature on 'It Don't Matter' is sterilised soul, while Jennifer Hudson's 'Out Of My Hands' is disco-by-numbers, all clement beats and gratuitous key changes. Not even Ty Dolla $ign singing "every time you wear that dress you fuck with my head" carries enough bottled-up romance to risk a second date.
"When I think of a crossover, I think of basketball," Glasper said in an interview a couple of years ago. "A real crossover only works when you know that the person with the basketball can actually dribble equally with both hands." Black Radio III certainly features the best, but the lasting impression is that celebrity has been prioritised above the stagehand. The first 30 minutes is the best of the NBA, the rest is LeBron James missing pot shots from the balcony.