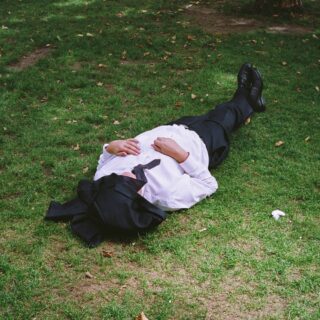 Robocobra Quartet
Living Isn't Easy
9/10
Sometimes things aren't always as they appear – and this certainly rings true for Belfast's Robocobra Quartet. Ostensibly a band-cum-art collective, adopting a name seemingly steeped in bohemian irony, they peddle more material for the quotidian post-punk scene so fertile in the grassroots of Northern Ireland's capital. More latently, however, the group of ex-students of Belfast's Sonic Arts Research Centre have been curating something altogether more holistic. 2016's Music for All Occasions, and more recently Plays Hard to Get in 2018, saw the band germinate a signature sound of jazz-motivated, punk-informed, avant-garde spoken word that amassed expansive parallels ranging from Fugazi to Black Country, New Road.
2022's Living Isn't Easy follows a four-year fallow period, but firmly promises to build on the wide-ranging and well placed foundations of previous works. Vocalist, producer (Just Mustard, NewDad, Junk Drawer), drummer and de-facto spearhead Chris W. Ryan shines most prominently on lead single, 'Wellness'. Here, his acerbic assessments of influencer health and wellbeing culture are cut out with sarcastic metrical readings of unfortunately very real 'wellness' articles, which sound not unlike James Murphy's second self on LCD Soundsystem's 'Losing My Edge' growing further into neurotic hypochondria. 
More of the same can be found elsewhere as poetic deliveries nestle aside imposing production and almost referentially encyclopaedic musicianship. These tracks tell a story loosely based around a central character, exploring themes of absurdity and mundanity of modern life, whilst also delving into deeper themes of abuse. Delivering the backbone here are lashing basslines straight out of the D.C. post-hardcore playbook (see 'Flew Close' and 'Heaven'), deft drum patterns that would sound at home on any of Charles Mingus' works ('Flew Close'), are all housed together with galvanising saxophone and synth sections ('Plant' and 'Chromo Sud'). 
Here, Robocobra Quartet seemingly operate in perfect balance: musically and lyrically serious, yet also comedic in their experimentation and droll in their delivery. As the recent crest of Irish post-punk bands rummage for a new sound, it seems as though this particular one has struck gold.
Free Protomartyr flexi disc with this month's magazine
Subscribers to Loud And Quiet now receive a limited edition flexi disc of a rare track with their copy of the magazine
This month's disc is from Detroit punk band Protomartyr