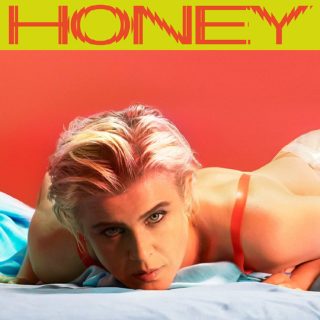 Now that purism in music has become all but synonymous with small-mindedness, it seems increasingly bizarre that rockist attitudes were widespread as little as a decade ago. The idea of indie darling Dev Hynes producing Carly Rae Jepsen, Beyoncé borrowing motifs from Yeah Yeah Yeahs songs, or Pitchfork naming Lorde's coming of age opus 'Melodrama' "Best New Music" would once have seemed vaguely ludicrous. That they don't is arguably thanks to the groundwork Robyn laid.
A star since her teens, the then 25-year-old singer bought herself out of her deal with Jive Records in 2004 so that she might pursue her creative vision without label interference. The risk paid off: 2005's self-titled record – featuring the emotional thunderbolt of a single that is 'With Every Heartbeat' – successfully blurred the perceived parameters of pop. Abrasive electronic textures were underpinned with hip hop beats and overlaid with symphonic strings, while Robyn's assertive, often melancholic lyrics possessed an emotional truth that truly resonated with listeners. 2010's ambitious 'Body Talk' – her last LP proper – only pushed the envelope further, and its sparkling synthpop received deservedly rapt reviews from more traditionally rock-oriented publications.
In the time since its release, musicians of all genres have clamoured to emphasise Robyn's influence on their craft. Combine that with Lena Dunham co-opting 'Dancing On My Own' for a key scene in 'Girls' – subsequently introducing the Swedish singer's work to any stragglers – and the levels of excitement surrounding Robyn's comeback are nearing fever pitch. It's an unenviable level of pressure for any artist to face, but there's no trace of trepidation to be found anywhere on 'Honey', even if it's not quite the record that many expected.
Admittedly, it all begins where 'Dancing On My Own' left off, finding Robyn crafting euphoric dancefloor fare out of tear-stained introspection on the exquisite opening track 'Missing U'. Shimmering synth arpeggios dance around Robyn's feather-light coo, as she explores the dissolution of a long-term relationship at 120bpm. It's testament to her skills as a lyricist that she takes a topic explored a million times before and offers fresh perspective on the subject, aiming straight for the heart without seeming mawkish in lines like, "There's this empty space you left behind now you're not here with me," and "All the love you gave, it still defines me." It's the purest pop moment here, followed by the title track.
Also co-produced with long-time collaborator Klas Åhlund and Joe Mount of Metronomy, 'Honey' feels even more club-focused. Its balmy melody is powered by the steady throb of synths, hi hats and the occasional cowbell, and it was reportedly inspired by DJ Koze's blissed-out single 'XTC'. The niche reference point won't surprise anyone who's followed Robyn's career post-'Body Talk', which has included collaborations with Röyksopp, Mr Tophat, and a project with Markus Jägerstedt under the banner La Bagatelle Magique.
Robyn remains rooted to the dancefloor throughout, whether she's pairing deliberately vacuous party chat with staccato keyboards on 'Beach2k20', exploring celestial, string-flecked disco on 'Because It's In The Music', or offering slow-burning sunrise cuts with 'Send To Robyn Immediately', which was written with Adam Bainbridge AKA Kindness. Those seeking melodies with the immediacy of 'Call Your Girlfriend' and 'Hang With Me' might struggle with the likes of 'Between The Lines', which blossoms into four to the floor house from its minimal beginnings of pitchshifted vocals and a frazzled, one-note keyboard pulse.
There's a subtler strain of songwriting on display, and the high impact gloss of the 'Body Talk' era has gone, lending a softness to productions that feels organic. These developments are demonstrated particularly effectively on 'Human Being', a beautifully melancholy collaboration with Konichiwa Records' other signing Zhala that's hewn from minimal percussion and muted synth textures. Like much of the album, its charms only truly unfurl on repeated listens.
Consequently, 'Honey' isn't the mainstream-conquering comeback that many fans might have hoped for. It is, however, the logical next step for an artist who has always prioritised creative fulfilment ahead of external expectations, and a fascinating statement in its own right. And by filtering her innate melodic nous through the prism of club music, Robyn pushes the dance-pop hybrid into exciting new territory. As ever, purists need not apply.
Please support Loud And Quiet if you can
If you're a fan of what we do, please consider subscribing to L&Q to help fund our support of new musicians and independent labels
You can make a big difference for a few pounds per month, and in return we'll send you our magazines, exclusive flexi discs, and other subscriber bonus bits and pieces
Try for a month and cancel anytime