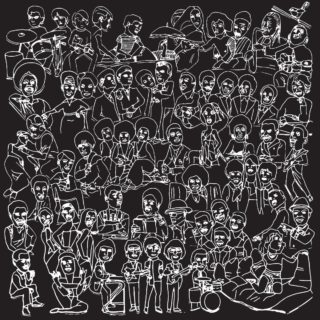 Romare
Love Songs: Part Two
7/10
Archie Fairhurst's debut album, 'Projections', had many reaching for giddy superlatives with his cut'n'paste homage to jazz, funk and soul, and for album number two, he's feeling the love again.
No stranger to a concept, the narrative for 'Love Songs: Part Two' might be less academic than the previous theme of cultural appropriation in America, but with Fairhurst deftly easing through the full range (lust, tenderness, affairs, doubt…) 'Love Songs…' is still rich with the same gilded production style.
From the dirty, electronic bass of 'All Night' to the happy-Get-Lucky house bounce of 'Je T'aime', the vibrant, busy rhythms that coloured 'Projections' have either been replaced or toned down by a looser disco energy that melts into Fairhurst's increasingly impeccable ability to hit a groove.
It's evident on the lenient thump of 'Come Close To Me' as it builds through a gentle Gold Panda-esque intro into a long-played, spasmodic head-nodder; the psychedelic bongo repetitiousness of 'New Love'; and on the sawing Justice-inspired build-up of the funk-heavy standout track 'Who Loves You?'.
Elsewhere, Fairhurst lays the velvet touch on thick with the soul and steel drum sounds of 'Who to Love?', the easy flute harmonies of 'Honey', and the late-night curtain call of 'My Last Affair' to ensure 'Love Songs: Part Two' signs off with a cigarette and a satisfied smile.
New monthly memberships available
Here's a new thing: our membership scheme now has a pay-monthly option, plus a load of exciting new digital stuff for people who support what we do. It's actually excellent value, honest, and will help us continue to promote new independent artists and labels.
Sign up and you'll receive our physical magazines delivered to your door, our digital editions, exclusive podcasts and playlists and access to our EXTREMELY glamorous Members Lounge. You'll be the envy of all your friends.