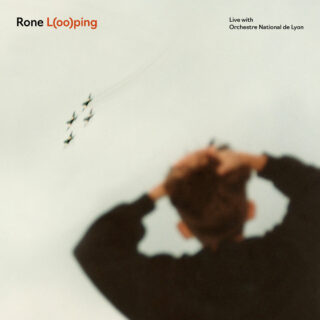 You can measure French electronic composer the distinction of French composer Rone by the sheer range of artistic media within which he has worked at an elite level: in addition to his four previous studio albums, he has worked with the filmmakers Jacques Audiard and Spike Jonze, the Marseille Ballet and the writer Alain Damasio. On this remarkable new project, he finds himself in longform collaboration with the National Orchestra of Lyon, ploughing yet more new creative furrows, further cementing himself at the vanguard of acoustic and digital meeting place.
Overseen by the arranger Romain Allender, L(oo)ping is a selection of tracks from the Rone catalogue that have been reinterpreted to incorporate the theoretical and logistical possibilities that an 80-strong classical orchestra possesses; in short, the goal here is to find something new.
What results is a thrillingly beautiful examination of where the classical tradition can be used to overlap with contemporary digital composition. On 'Room with a View', for example, the melding of Rone's insular, DIY production is rocket-boostered by the power and might of the orchestra, lending an immense weight to the track, while conversely the speed, dexterity and changeability of the arrangement recalls the image of one 21st century composer sitting in front of his digital audio workstation and dreaming big. The two poles, in other words, feed back into each other's strengths with such ease that you can almost forget what exactly it is you are hearing.
'(OO)' is centred on an ostinato hook that doesn't so much build as intensify, boasting an ever more panic-inducing, walls-closing-in construction that grips you by your windpipe and hoists you off your feet, only dumping you back to earth when it sees fit. 
'Ghosts', contrarily, draws out the tenderness in Rone's writing, as if directing a microscope at these compositions, exposing that although they may have been electronic in their original form, they are indentured with his own fingerprints nevertheless. The orchestra draws out the organic element that is embedded deep in the core of the piece, planted there as a result of Rone's ability to infuse human drama into digital form. The track requires the orchestra to conjure sweeping, haunting atmospherics, and as the piece climaxes, the ground starts to rumble with bass drums, flighty strings and incantatory vocals, invoking a misty, dangerous late-night sonic terrain.
Tracing synthesised meta-realities where internal monologues are, in the Kid A tradition, transposed into bloodless, desolate electronic expanses can reveal something about the anxieties and insecurities of the subconscious mind of their creator, but on L(oo)ping, that is then redoubled back into organic life to create something uncanny, and very exciting.
The album's 11-minute centrepiece 'Motion' is the ultimate statement of this collaboration. Forging a hybrid of the two worlds is not brand new, of course, but it has rarely felt this seamless. This album does not push the orchestra into uncomfortable virgin compositional ground, but it seduces them into a cutting-edge artistic space where the boundaries to what can be achieved are invisible. There are, according to L(oo)ping, no limits to how dextrous, agile or malleable a mass body of classical instrumentalists can be made to be, with the right amount of brave new world thinking. They lend their majesty and trembling power to a piece that, in its very essence, depicts a sense of unsure-ness, a pausing, indeterminate desire to grasp something that might be real. By the time the ensemble unleashes their full flourish as the track crescendos, we can hear that that reality exists.
Please support Loud And Quiet if you can
If you're a fan of what we do, please consider subscribing to L&Q to help fund our support of new musicians and independent labels
You can make a big difference for a few pounds per month, and in return we'll send you our magazines, exclusive flexi discs, and other subscriber bonus bits and pieces
Try for a month and cancel anytime