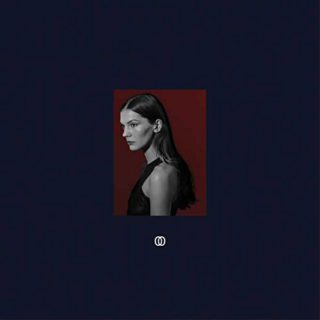 Glistening waves of soulful RnB, sparse beats, and silky smooth vocals toying with glitchy, late-night keys – there was a lot of love in Rosie Lowe's debut EP back in 2013, and it's easy to understand why. Weaving elements of Burial, James Blake, and The xx into the fabric of her emotionally fraught lyrics put Lowe at the vanguard of upcoming artists operating in the realms of lo-fi PBRnB. But while peers such as FKA Twigs and Autre Ne Veut scaled the heights with critically acclaimed albums, Lowe has been working in the shadows, releasing only a couple of tracks over the last few years.
It's unfortunate that her debut album has arrived just as interest in emotionally wrought, shiny synth-soul has started to wane, becoming as it has an omnipresent background wash to urban modernity. Dismissing such music as being the preserve of fashionable hipsters with nothing to say has become a common sport, but that's certainly not true of 'Control'. Friends who disappear in troubled times ('Who's That Girl?'), dealing with an insecure partner ('Worry About Us'), a plea to leave a toxic relationship ('Nicole'), and the state of feminism in 2016 (pretty much everything) are just some of the hefty topics Lowe wades into.
Musically, it can be just as intense at times. 'Control' is an enveloping listen through headphones, but the eleven tracks here also have a slick sheen, which give them an expansiveness when turned up properly loud. Lowe often fills the quietest moments with her harshest words, making them all the more powerful – some hit home like a dagger of ice straight to the heart – but the record doesn't wallow in self-pity or introspection. You can take solace from these songs, letting your worries float off like flesh from your bones as you sink into their embrace.
Through all the low-end warbles and skilful little flourishes, the one thing that's lacking is the odd change of pace or frisson of defiance. As brutal and difficult as love, relationships, and indeed just surviving can be, it helps to let in a little light now and again; as a songwriter, Lowe seems wedded to "atmospherically dense" by default. But her skills as a producer shine through, and 'Control''s ability to be both spine-tingling and alluring sets it apart from the bandwagon-jumping coffee-shop mush that's now so ubiquitous. "Music wasn't an option, it was a necessity," she has said, and she has the talent to back that up. Listen to 'Control' and be glad Lowe gave herself only one path to follow.
New monthly memberships available
Here's a new thing: our membership scheme now has a pay-monthly option, plus a load of exciting new digital stuff for people who support what we do. It's actually excellent value, honest, and will help us continue to promote new independent artists and labels.
Sign up and you'll receive our physical magazines delivered to your door, our digital editions, exclusive podcasts and playlists and access to our EXTREMELY glamorous Members Lounge. You'll be the envy of all your friends.