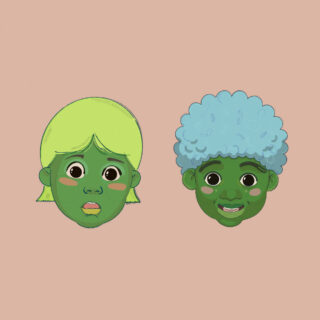 Rosie Lowe & Duval Timothy
Son
7/10
"Your voice is your instrument," might sound like the most dreadfully trite, Saturday night talent show cliché of them all, but to Rosie Lowe and Duval Timothy, it is a challenge. This brief collaborative record mines the full spectrum of the human voice and treats us with a glittering platter of new and unfamiliar treatments.
SON is more often about the sonic contents of the voice than language, as set out on opener 'Da', a 40-second wash of overlapping harmonies made of layer upon layer of voices repeat the titular utterance, a mini induction ceremony into the album's experimental playground. 'Always', similarly, is largely a treatise on a single word, examining it under a microscope, repeating it beyond the possibility of definition, leaving it out to wilt and eventually repackaging it into 57 different varieties.  
On 'Play Along', Lowe's voice begins in solitary, echoey desolation, an abstract, expressionistic account of stoking out your own space in the world. The track progresses and Lowe's voice becomes multi-tracked, gradually filling its own empty space, becoming bold and building confidence, celebrating its own depths and finding a home. 
If there is a take-home message on SON, it concerns the importance of one's voice to one's own agency. The title track uses its minimal lyrical content to gesture towards a story of passing on what was passed onto you, of making the same inherited mistakes as those before you and of learning to break that unfulfilling chain of events. In Lowe's maternal tones, augmented by the contributions of Duval Timothy, we hear a swathe of emotional contradictions: concern, wonder, pride, duty and love, without the need to spell any of them out or diluting the purity of their conviction. Find one other instrument with the capacity to do that.
New monthly memberships available
Here's a new thing: our membership scheme now has a pay-monthly option, plus a load of exciting new digital stuff for people who support what we do. It's actually excellent value, honest, and will help us continue to promote new independent artists and labels.
Sign up and you'll receive our physical magazines delivered to your door, our digital editions, exclusive podcasts and playlists and access to our EXTREMELY glamorous Members Lounge. You'll be the envy of all your friends.