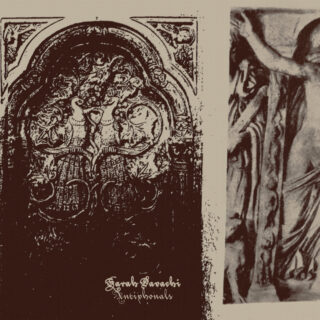 Sarah Davachi
Antiphonals
7/10
For the best part of a decade, Sarah Davachi has been pursuing electro-acoustic experiments that have been quietly breathing new life into the genres of drone, ambient and minimalism. By employing an array of both ancient and modern instruments, the prolific Canadian composer is able to summon soundscapes that can be haunting, meditative and unusual – often all at once. During her latest  explorations, Davachi has taken inspiration from her collection of '70s prog rock LPs to meld with her medieval and Renaissance disciplines, resulting in her 15th studio album Antiphonals. 
Released via her own label Late Music, these eight compositions fall in with the trajectory of her recent efforts and sound as though they would be most at home when humming through the  shadowy halls and cobwebbed corners of an ancient church. The bewitching murmurs of 'First Cadence' and the dreamlike 'Gradual of Image' recall Davachi's peers Anna von Hausswolff and William Basinski, while 'Abeyant' wouldn't be out of place alongside some of Grouper's ambient recordings. 
The sounds of harpsichord, piano, organ, horns and Mellotron can almost feel as if they're echoing  from a bygone era, yet Davachi is effortlessly able to take the listener swimming through feelings of  mourning, introspection and hope. The instrumental mastery of Sarah Davachi is undeniable, but it is her ability to evoke these deep feelings that truly makes her work memorable. Admittedly, Antiphonals won't be to everyone's taste, but those most attracted to this particular strain of experimental music will surely find themselves enamoured.
New monthly memberships available
Here's a new thing: our membership scheme now has a pay-monthly option, plus a load of exciting new digital stuff for people who support what we do. It's actually excellent value, honest, and will help us continue to promote new independent artists and labels.
Sign up and you'll receive our physical magazines delivered to your door, our digital editions, exclusive podcasts and playlists and access to our EXTREMELY glamorous Members Lounge. You'll be the envy of all your friends.