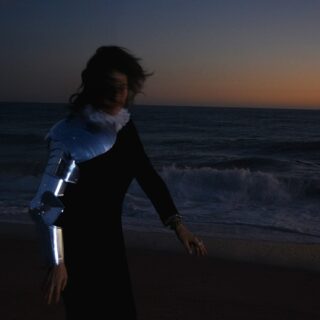 "Oh ye of little faith," jabs Sarabeth Tucek on the opening track of her new double album Joan Of All, "I know how to keep things safe." The line is delivered with a sincerity that doesn't sound like an artist meddling with their first new music in a decade, steamrolling a bed of jangle pop like it was 1981 with a knowing eyeroll shrugging off the inevitable comparisons. The same eyeroll returns eight tracks in, this time with a helping of the grief that shattered her 2011 album Get Well Soon. '13th St. #1' maps a similar gorgeously lolloping, not-quite-spoken-word monologue about the changes to her hometown on top of the Velvet Underground's 'Heroin' to-the-beat, through stories of her family's record collection, disappearing diners and delis, the brown-stone house of her childhood and the old front stoop where her Dad used to sit. But before you can compare the two tracks, she quips about "[putting] on a record, Coney Island Baby… I just go back in time, go back in my mind." And of all the records it does sound like, it certainly doesn't sound like Coney Island Baby.
The joy of Joan Of All is found in these constant eyeroll moments: the similarities and cornerstones of well-sung songs that you know until you don't, the rip-offs in somebody else's name that sound entirely self-arranged here, and SBT's small recognitions of it all that beat any well-meaning critic to her own self-deprecation. There's an intense soulfulness to her rattling, rhythm-driven rants, where echoes of Lou Reed and R.E.M. evoke family and place more vividly than they recall the artists themselves. Take the oddly devastating 'Swings' where windchimes rattle to tell of the mystical swing that "kept swinging on", or 'Happiness' that always almost sounds like 'Stairway to Heaven' before the electrics kick in, or 'Unmade / The Dog', where the softer indie rock schmoozes into quietly crashing cymbals like an off-cut from Push The Sky Away-era Nick Cave. 
Like a city being rebuilt on top of itself, there's an instant feeling of having walked every street SBT leads you down, of having lived every interaction she colours in and having cried every sadness, only not quite. The incredible creativity here is Tucek's rejection of pastiche, while sounding like everything that's come before. "Besides getting older," she sings, "nothing is the same". And across the album's 70 minutes of music, everything here is hers.
Please support Loud And Quiet if you can
If you're a fan of what we do, please consider subscribing to L&Q to help fund our support of new musicians and independent labels
You can make a big difference for a few pounds per month, and in return we'll send you our magazines, exclusive flexi discs, and other subscriber bonus bits and pieces
Try for a month and cancel anytime