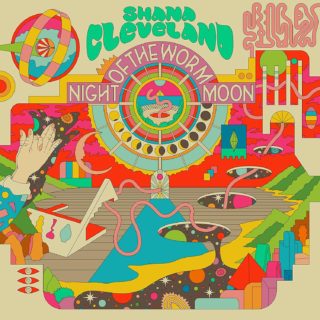 Shana Cleveland
Night of the Worm Moon
8/10
Judging by the psychedelic, '60s album artwork, its title, and Shana Cleveland's origins as frontwoman in twisted LA retro-pop outfit La Luz, you might have a pretty good idea of what you're going to encounter on this record. Such preconceptions are borne out on its floaty, serene opener, 'Don't Let Me Sleep Too Late' – a short, sweet song that feels like neither a bad trip or a good one, but one which could suddenly veer either way. Then there's the lap steel guitar and shuffling horse-trail rhythms of 'Face Of The Sun', and there's something vaguely grungy about 'A New Song', which sounds something like an acoustic Nirvana b-side.
Continuing in this vein, any outstanding, uncomfortable notions that 'Night of the Worm Moon' is all psychedelic pastiche are dismissed by the gentle joy to be had from stopping and really listening to this album. Throughout, even under the sweetest melodies (as on the short, hypnotic 'Invisible When The Sun Leaves'), there's a microscopic undercurrent of darkness, and it's this dash of uneasy noir that makes the record so appealing. These are luscious, beautifully layered songs, more sunset than sunrise, and Cleveland has achieved a sweet, simple whole from something that is actually beguilingly complex.
Subscribe now. Cancel anytime
Go on, give us a go
We love making Loud And Quiet – our magazines, this website, our podcasts and more – but it's become increasingly difficult for us to balance the books.
If you're a reader who'd like to help us keep the show on the road, please consider becoming a Loud And Quiet subscriber. There are options to receive our physical magazines and lots of other extras that are exclusive to our supporters.