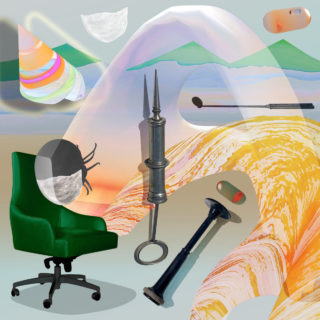 Shanghai Restoration Project
Brave New World Symphony
6/10
Much like the sleeve of their new record, the sound of prolific electronic duo Shanghai Restoration Project is surreal. Founded in the mid-2000s by Bad Boy Records producer Dave Laing and later joined by Sun Yunfan (who also designed the artwork), the multi-instrumentalists blend synths, samples, jazz-inspired percussion, improvised piano, altered vocals and more with a penchant for leftfield songwriting akin to acts like Toe or Battles.
Released just a year after their last project, Brave New World Symphony was conceived and recorded entirely in lockdown at the pair's home in Brooklyn. The nine tracks that emerge are reflective and adventurous, purposefully using the freedom provided by musical experimentation to protest their sudden inability to physically move. 'Involuntary Prophet' acts as an initiation of sorts, the alluring atmosphere and hypnotic beats evoking a ritualistic rhythm, as if you're being ceremoniously welcomed into the world of the SRP. 'Present Continuous' follows, and sees the twosome incorporate vocals as if they're instruments themselves, and the pulsating 'Night Odyssey' is a highlight from the album's latter half.
The playful tone continues elsewhere, like on 'Positive Disintegration', the album's longest track at seven minutes, which weaves in and out of synthy passages and jazzy piano escapades, but unfortunately comes off as meandering and slightly kitsch. But despite some lulls, Brave New World Symphony remains the sound of two artists finding joy in evading the predictable, expanding a vibrant musical universe that never takes itself too seriously.
Loud And Quiet could do with your help
We love making Loud And Quiet – our magazines, this website, our podcasts and more – but it's become increasingly difficult for us to balance the books.
If you're a reader who'd like to help us keep the show on the road, please consider becoming a Loud And Quiet member. There are options to receive our physical magazines and lots of other extras that are exclusive to our supporters.