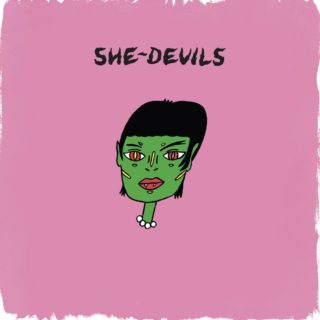 'Come' is the opening track of She-Devils eponymous debut album – when it was self-released as a single at the end of 2015, its electronica '60s sound quickly established an aural aesthetic for the Canadian duo. Now signed to Secretly, Kyle Jukka and Audrey Anne Boucher re-emerge on the music scene with a bold and eminently listenable effort that playfully conveys those fickle first days of a budding relationship.
'Darling' is a dreamy surfer love-song, where vocalist Audrey sounds like a hot stoner with a spliff and bikini, pleading teasingly with her new lover who's just about to walk out the door. On 'How Do You Feel' she's rubbing herself against him, a long red dress dragging along the floor, the crackle of old vinyl in the background, attempting the impossible feat of getting inside someone else's emotions. And then there's 'Blooming', and she's changed her mind, or might be about to, because maybe they're not ready for this after all. Whatever, it's a woman's prerogative, and as such 'She Devils' is a playful listen, at times totally captivating.
We're not being funny...
… but can you become a member please?
It's actually excellent value, and will help us continue to promote new independent artists and labels.
Sign up and you'll receive our physical magazines delivered to your door, our digital editions, exclusive podcasts and playlists and an actual bookmark, as if printing a magazine in 2021 wasn't old fashioned enough.
6-month and full year memberships are available now. Fancy it?