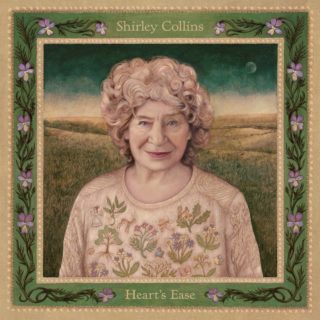 Shirley Collins
Heart's Ease
(Domino)
9/10
There's a song on Heart's Ease, the ninth Shirley Collins album in six decades, written by Buz Collins – the late son of the late Dolly Collins, Shirley's sister and collaborator. One of the very few non-traditional songs in the record (or indeed, in the Shirley Collins recorded canon), 'Locked in Ice' concerns the story of the SS Baychimo. As the First World War began, the steel cargo ship was launched from Sweden and sailed until 1931, where it was abandoned by its crew after having been trapped in pack ice on the North Coast of Alaska. For decades since, the ship – partially engulfed in its white tomb – gained a reputation as the ghost ship of the Arctic, briefly glimpsed on the horizon once every few years before squinting out of view, the stuff of legend. 
For over three decades, this was Collins. At the end of an astonishing two decades as a singer, song-collector and then recording artist, Collins' marriage to Austin John Marshall broke down at the end of the 1970s, and Collins developed dysophonia – a rare vocal condition that prohibited her from singing, even in private. The definitive English folk vocalist of the 20th century was exiled to icy silence, working low-paid jobs in anonymity. That was until her return in the middle of the last decade, with 2016's astonishing Lodestar, followed by a brilliant documentary and her own award-winning memoir All in the Downs. Now that her status is secured, one could forgive a victory lap or even retreat into comfort, but Heart's Ease is neither of those things; indeed, it goes some way further towards entrenching her unique position in British culture.
Where Lodestar was moored specifically in England – portending, correctly, that the nation needed to repent as "dreadful days draw near" – Heart's Ease is concerned largely with voyages and sea travel. Most working professions had their links to folk culture, but ship labouring and sea travel have a specific place in the English oral tradition. It's on this that Collins draws deep here: 'The Merry Golden Tree' recounts the conflict between a heroic cabin boy and a callous ship captain, whilst 'Canadee-I-O' is the story of a young woman dressing as a sailor to join her lover on a ship voyage. The latter track is no small task to tackle, with the 1980 Nic Jones version widely viewed as definitive – not least by Collins, an ardent fan of a vocalist who aligns perfectly with her masculine but never macho taste in male vocalists. Collins' rendition here is a triumph, the generosity in her weathered vocal conjuring entirely new resonances for this listener. This is Collins' genius – taking what could be dry, distant or dusty and finding the sex and the vitality. Such lust is central to 'Rolling in the Dew', a song which has its origins in the 14th century and here sounds flush with the carnal. Seasonal tracks too have their place on Heart's Ease, a gorgeous airing of 'The Christmas Song' with muscular guitar accompaniment (for a primer in ritualistic seasonal folk, listen to the Watersons' 1965 Frost and Fire). 
As well as 'Locked in Ice', there's another non-traditional song that goes straight to the small of one's back. 'Whitsun Dance' was written by Austin John Marshall (its inclusion here cited by Collins as something of 'a reconciliation, a healing') and first appeared as part of her 1969 masterpiece Anthems in Eden. That album was a song-suite charting the devastation that the First World War wreaked on rural England and its traditions – the mortality rates in some towns and villages as high as seventy per cent – and 'Whitsun Dance' marked its culmination, observing the widows of the Great War dead turning out to watch the Morris dances in May. The dignity and the age in Collins' vocal resembling the same women that the source material observes, it's impossibly moving, and utterly divorced from flag-waving patriotism that still surrounds that disaster of a war and its memorialisation ("It's not so much lest we forget", as Alan Bennett's The History Boys points out, "as lest we remember.")
During her exile, it would be the avant-garde who would really reckon with Collins' work – we have partly to think the persistence of David Tibet from Current 93 for the fact that we can hear Collins singing at all in 2020 – and album closer 'Crowlink' seems to repay that gratitude. A sustained blackening cloud of a drone from a hurdy-gurdy, the track is wintry and experimental, Collins' voice phasing in and out of view as if from above. Her dour Sussex intonation slips in and out of earshot, incanting lines from 'Locked in Ice'. 
What the English avant-garde understood then about Collins, and that is glaringly obvious now, is that Collins is a great artist who complicates our idea of what a great artist is (not least in the historically gendered connotations of said greatness). Collins is different: it's the subtraction of ego that produces results – often haunting, often endearing, but always with maximum fidelity to the source material. She was schooled this way, to sing plainly, at her grandfather's knee in Sussex, and it isn't hyperbole to point out that what we're dealing with on Heart's Ease is something that reaches into the distant past of the rural labouring class. But that isn't why it's good; no, it's the sheer enduring potency of the material, the magnificent austerity of the delivery and arrangements. "It sounds a bit fanciful," explained Collins when I interviewed her in 2017, "but it's not, it's actually what I feel and I just want to do the best I can with my singing for all those people behind me who were unknown, neglected, and lived really hard lives. We owe them so much and I think they're behind me saying thank you sometimes. It is a bit fanciful, but it's truly how I feel – I feel part of them."
Gift subscriptions are now available
It's been a long time coming, but you can now buy your pal/lover/offended party a subscription to Loud And Quiet, for any occasion or no occasion at all.
Gift them a month or a full year. And get yourself one too.
Whoever it's for, subscriptions allow us to keep producing Loud And Quiet and supporting independent new artists, labels and journalism.