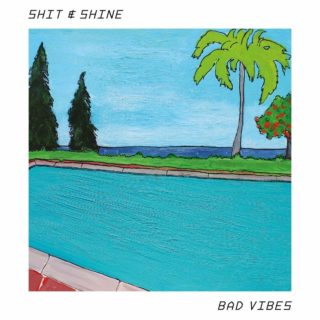 Shit & Shine
Bad Vibes
(Rocket)
8/10
In the late 1990s, a condition known as "Czech Neck" was invented by producers of Channel 4's satirical masterpiece Brass Eye. Caused by the fictitious drug "Cake", it turned rats into space hoppers, made recipients throw up their own pelvis bones and led Conservative MP David Amess to use the phrase "big yellow death bullet" in parliament.
Sensationalism has rarely left acid house and its experimental noise off-shoots, and its frontrunners have rarely been allowed a platform to hit back. While it possesses little political agenda, Shit & Shine's fourth album on Rocket Recordings strikes with an edge of satire and absurdism that clicks with the custard gannets of Brass Eye as much as stands it out as a demolition job within its own genre worth listening to.
Musically, the 303-led acid nostalgia of 'Bad Vibes' soundtracks the exercise video for the apocalypse. A reductive interview sample on 'Bottle Brush' opens by asking "You don't want to talk about what happened?" "No, not at all". It leaves that there. The binary BPMs on 'Northwest Pool' call for imminent take-off. The brilliant 'Yeah I'm On Acid!' samples a heavy metal parking lot into techno mayhem, like Gazelle Twin's 'Better in My Day' minus the red latex Pied Piper. 'Backstage Passes!' drowns a scratching hip-hop riff into muddy water over a whiney sample of basic VIP hype, before an even whinier sample rebuts with "Madonna can go to hell, as far as I'm concerned she's a dick."
Shit & Shine has curated the sound of a parallel world in which the UK's bygone rave culture has mapped itself onto the social media generation. That exploration of excitement ends with a sharp and self-conscious social framing. Title track eschews the expansive noise of Yellow Swans' 'Going Places' and protrudes into a convulsive, slow-mo eruption of the worst comedown. Where its artwork negotiates the alpine passivity of David Hockney's California, Shit & Shine's aggressive nods to acid and transgressive noise beckons the third summer of love, but one that's built on a self-satirising sense of nostalgia and dissatisfaction.
Please support Loud And Quiet if you can
If you're a fan of what we do, please consider subscribing to L&Q to help fund our support of new musicians and independent labels
You can make a big difference for a few pounds per month, and in return we'll send you our magazines, exclusive flexi discs, and other subscriber bonus bits and pieces
Try for a month and cancel anytime