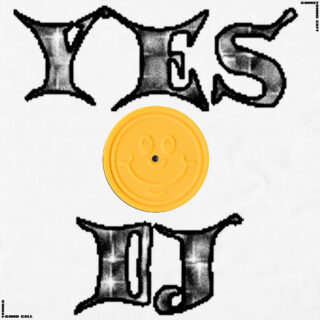 Simo Cell
YES.DJ
(TEMƎT)
8/10
Criminally-underrated French producer Simo Cell is back with a new six-tracker that pushes the capabilities of bass music composition even further than his listeners could have anticipated. Simo is known for his singular spin on the contemporary architecture of UK techno, and YES.DJ is a highly impressive arrangement of cheek-pummelling sub bass, perplexing drum programming and diverse genre navigation. It also nods to Simo's global clubbing journey, about which he has created a drinks token fanzine (designed by DR.ME) to accompany the release. This take on club culture from a self-described "sideways perspective" illuminates the significance of key players behind the scenes in our industry, acting as a creative symbol of solidarity.
The album's ensemble is contorted and clinical in equal measure (a balance many producers struggle to nail), throwing the listener into a tumultuous state of not knowing whether they are in or out of control. By freestyling the formula, Simo Cell deals the perfect hand of genre-bending arrangements, switching between 140bpm beats, dancehall, footwork, trap and techno. His distinctive combination of styles and historiographies within the album lends YES.DJ a certain weight – see the merging of twisted trap beats with mutated vocal samples in 'Short Leg'. Taking a slightly different lead to the rest of the album, 'Not All It's Cracked Up To Be" builds up an avant garde eerie backdrop that is conceptually and sonically reminiscent of Leyland Kirby's The Death of Rave whilst maintaining an infectious rhythm. Simo Cell's continued adventure into cross-pollinated sonics really cements his drive to dissolve pointless borders and unify them in pursuit of one vision.
One thing's for sure: YES.DJ is built for the club, to the point that you may want to lick the bass bins. If I don't hear 'Cegetel' being played in a steamy, 200-capacity basement at 3AM this year, I'm doing something wrong.
New monthly memberships available
Here's a new thing: our membership scheme now has a pay-monthly option, plus a load of exciting new digital stuff for people who support what we do. It's actually excellent value, honest, and will help us continue to promote new independent artists and labels.
Sign up and you'll receive our physical magazines delivered to your door, our digital editions, exclusive podcasts and playlists and access to our EXTREMELY glamorous Members Lounge. You'll be the envy of all your friends.