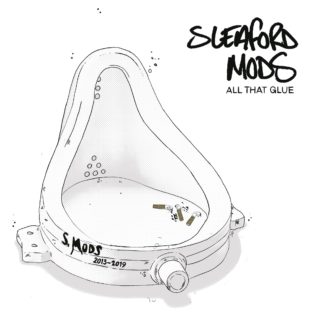 Sleaford Mods
All That Glue
8/10
A NOTE: LOUD AND QUIET IS IN DANGER OF CLOSING. PLEASE CONSIDER SUBSCRIBING TO OUR MAGAZINE OR MAKING A SMALL DONATION HERE. THANK YOU.
Let me start off with a couple of confessions: Sleaford Mods completely passed me by despite my spending four years near their hometown of Nottingham. Secondly, I have never listened to a compilation before.
The alchemising of the two unknowns in this new release, All That Glue, spanning the electronic post-punk duo's career could have felt disorientating. However, there is a generous guidance that eases you into this collection, particularly the hypnotising simplicity underscoring the majority of the 22 tracks which either have a chugging bassline, simple guitar riff or synth loop as ballast.
Despite the minimalism, there are a slew of genius ideas beneath the direct beats and vocals. Songs are laden with the utilisation of bric-a-brac such as a P.E. teacher's whistle in the electric 'Snake It' and Bez-approved maracas in 'Routine Dean'. Lyrically, the witty pop-culture references are mere dressing for biting attacks on the systemic fragilities that undertow British society – disingenuous busyness, pretension and austerity. Sonically, most songs stick to the blueprint, but manage to feel distinct, with a gulf of difference between tracks such as the theatrical bravado of 'Jobseeker' and the quivering vulnerability of 'When You Come Up To Me'.
Throughout, Sleaford Mods embody the virtues of working-class intellect: authenticity, generosity and irreverence. This is solidified by the effort they go to make this more than a greatest hits by adding unreleased tracks, releasing an accompanying live set and hosting a session where fans can WhatsApp or tweet questions to them, a regional English take on Nick Cave's Red Hand Files. The whole compilation serves as an undeniably class act by a band whose class identity is more honest than most.
Please support Loud And Quiet if you can
If you're a fan of what we do, please consider subscribing to L&Q to help fund our support of new musicians and independent labels
You can make a big difference for a few pounds per month, and in return we'll send you our magazines, exclusive flexi discs, and other subscriber bonus bits and pieces
Try for a month and cancel anytime