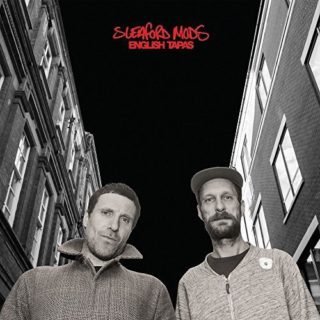 Sleaford Mods
English Tapas
9/10
The title of Sleaford Mods' first album for Rough Trade was inspired, according to Jason Williamson, by a moment when "Andrew [Fearn] walked into some random pub and saw 'English Tapas' scrawled on the menu board. Underneath this beautiful coupling of words were its components, half a scotch egg, cup of chips, pickle and a mini pork pie. It says everything about this fucking place. It's comedy, it's make do, it's ignorant and above all, it's shit."
'English Tapas' channels those very English qualities, articulating spiky politics in its humorous social criticism, as we've come to expect from this duo, only with better 'songs'. It opens with a brash, boozy track that showcases their signature pared-down sound; 'Army Nights' feels like the kind of banging, aggressive hangover you get after a night out with the regiment boys, downing 17 pints and Aftershock at the local Wetherspoons. On 'Drayton Manored' they celebrate the apathetic wit of the English underclass ("We are the dumb Brits/Lobbing down pint cans of imported shit"); while 'Carlton Touts' satirically mourns the way swathes of England are overlooked in the name of London's progress ("The Angel of the Midlands has flown away/Probably south").
In both content and delivery 'English Tapas' is reminiscent of John Cooper Clark at the tail end of a cheap amphetamine binge. And I mean that in a good way. It's bleak, tough and funny. Like life.
New monthly memberships available
Here's a new thing: our membership scheme now has a pay-monthly option, plus a load of exciting new digital stuff for people who support what we do. It's actually excellent value, honest, and will help us continue to promote new independent artists and labels.
Sign up and you'll receive our physical magazines delivered to your door, our digital editions, exclusive podcasts and playlists and access to our EXTREMELY glamorous Members Lounge. You'll be the envy of all your friends.