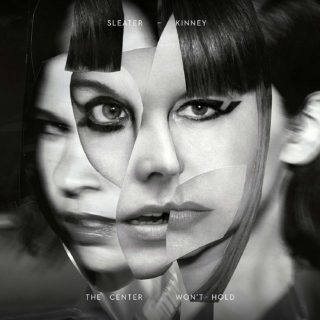 Sleater-Kinney
The Center Won't Hold
8/10
It was back in January that Sleater-Kinney dropped the first hint of what 2019 had in store: a photo of them with St. Vincent in the foreground, all of them glaring confrontationally at the camera. Little more explanation about the collaboration was offered but what's emerged is the curiously titled The Center Won't Hold, expertly produced by Annie Clark (St. Vincent) – a loud, brazen fireball of a record.
Born in Olympia, Washington at the heart of the seminal riot grrrl movement, Sleater-Kinney are without doubt one of the most essential American punk rock bands of the 1990s. As a band they certainly take their time: The Center Won't Hold is only the second record released after breaking a ten-year long hiatus in 2015. But when they decide that something needs to be said they do so unapologetically and with a bang.
The record gets off to an intriguing start with the title track, opened by tinny, industrial banging sounds. "I need something pretty to help me ease my pain," sings an agitated, fervent Carrie Brownstein, punctuated by howls of "the center won't hold". This line rings unrelenting throughout, with Brownstein finally succumbing to it, wailing over clashing guitar and Janet Weiss' barrelling drums.
Next is 'Hurry On Home', an unapologetic homage to female sexuality imbued with all the power and force the subject matter commands. The track bounces and bangs, Brownstein's vocals demanding her lover to "Disconnect me from my bones/ So I can float/ So I can roam". Though it starts huge, the track builds and builds, reaching a climax with chants of "You've got me used to loving you" and a backing of ecstatic gasps and screams. The track's official lyric video says a lot too – the lyrics typed out on an iMessage thread only to return embarrassed and uncomfortable replies.
More so than ever before, Sleater-Kinney have found ways of making their music political without compromising on personality or emotional sensitivity. "Despite obviously thinking so much about politics, we were really thinking about the person," Brownstein has explained. "Ourselves or versions of ourselves or iterations of depression or loneliness – in the middle of the chaos."
Epitomising this intent is the track 'The Future Is Here', a frantic dystopian monologue set in the present day. "I start my day on a tiny screen," sighs Brownstein, giving voice to the somewhat embarrassing reality of our reliance on technology. She is aching for simplicity; literally begging for some empathy and human contact: "Tell me if you feel like you are lost and alone/ I am your friend, you can cover me/ Just come over here and give me everything". Despite the obvious isolation of the narrator, the chorus peaks with slightly apathetic voices chanting in unison. The track is a true testament to the band's ability to remain relevant and perceptive twenty-five years after their conception.
Sonically, The Center Won't Hold merges the familiar and innovative, led by the production of Clark. "It was liberating to explore a different sound palette," explains drummer Janet Weiss (although she has since left the band due to their change in direction). "[Annie] could be our guide to help us make sense of this new landscape and still sound like us, still sound like we were playing Sleater-Kinney music but have the freedom to not have to play guitars all the time."
The aim of their new music is about more than being true to their sound – it is about pushing against the boundaries they see as expected for musicians of a certain age, particularly females. "There's this idea that sonically you're supposed to contract after a while, and make things that are more appeasing or quieter," muses Brownstein. "I think we've always fought against that…We don't wanna go quietly into the night."
The record comes to a devastatingly catchy climax with 'The Dog/The Body' before petering off somewhat solemnly. The final track, 'Broken', is just that, as though the band have suddenly run out of strength – the record's most tender moment. Brownstein's voice is candid, for once held back, accompanied only by roughly played piano. She mourns, surrounded by this vibrational, fundamental heaviness that grounds the record, which she describes as, "a way of making a record about the female body."
Life passes by quickly and the world is crumbling, but Sleater-Kinney are doing what they do best – saying something important while still having a blast.
Please support Loud And Quiet if you can
If you're a fan of what we do, please consider subscribing to L&Q to help fund our support of new musicians and independent labels
You can make a big difference for a few pounds per month, and in return we'll send you our magazines, exclusive flexi discs, and other subscriber bonus bits and pieces
Try for a month and cancel anytime